Last Updated on October 18, 2023 by gregor

If you're dreaming of a winter wonderland where the holiday spirit comes to life Europe is the place to be. Get ready to embark on a whimsical journey through the top 10 ultimate magical Christmas towns and villages that will transport you to a world of festive enchantment. From the charming cobblestone streets of Rovaniemi, Finland, where Santa Claus himself resides, to the timeless beauty of Strasbourg, France, renowned as the Capital of Christmas, each destination on this list promises an unforgettable yuletide experience.
Whether you seek traditional Christmas markets, dazzling light displays, or cozy, snow-covered cottages, these European gems will make your Christmas dreams come true.
Magical Christmas Towns and Villages in Europe
Vienna, Austria
Vienna is often called the magical Christmas town and home of Christmas markets in Europe. Many tourists and couples seeking romantic holidays, travel to Vienna every Christmas. Often these trips include high-quality dinners, concerts, and of course walks around the traditional Christmas markets.
You can find colorful Christmas lights, beautiful Christmas decorations, and several Christmas markets all around the city. We recommend walking around after dark because the town lights up beautifully and allow you to enjoy the magical atmosphere.
Wiener Christkindlmarkt
The Wiener Christkindlmarkt am Rathausplatz is the most popular market in the city and you shouldn't skip it for any reason. It's a small village in Vienna. Walking between small wooden huts, traditional crafts and delicious smells will take you to a Christmas wonderland.
Wiener Weihnachtstraum
Date Opeing 19. November – 26. Dezember 2022
Lokcation, 1010 Vienna, Wiener Rathausplatz
Vienna Ice Rink
You can also try ice skating in their ice rinks or play on the Christmas-themed kids' floor in City Hall. However, there are many Christmas markets around Vienna. The most popular ones have expensive basic products while you can find something unique from the smaller local Christmas markets. Test both types of markets to get the full Christmas village travel experience.
Read more on my blog post here:
Vienna – Top 10 things to do in Christmas and Wintertime (Click)
Vienna – Ultimate Christmas Market Travel Guide (Click)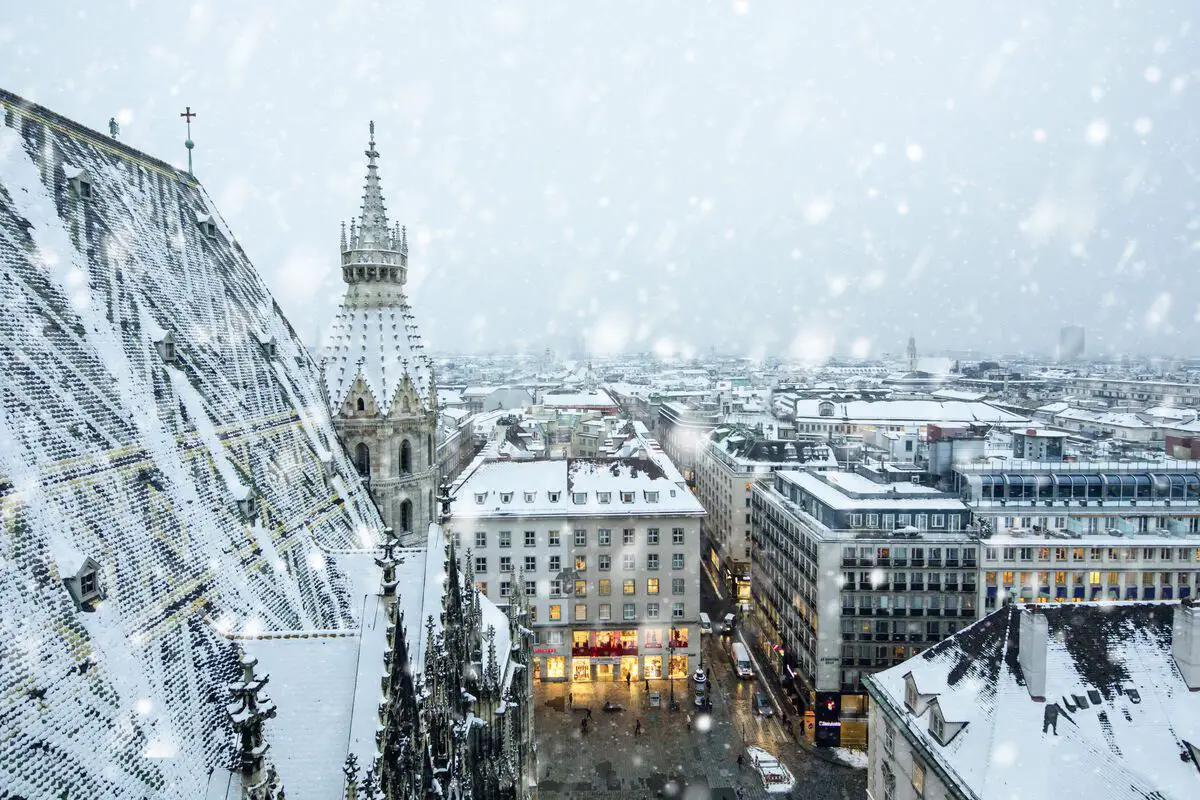 Hallstatt, Austria
This beautiful UNESCO World Heritage Site hides between the Alps and gives you the possibility to spend a peaceful Christmas in a village with a population of only about 800 citizens. Hallstatt is a really magical Christmas village looking straight from a fairy tale.
Breathtaking nature, toy-like houses, and the history of a small hidden village. What else would you need from a unique Christmas holiday? Oh, except for magical snow! We can't promise that there will be snow during Christmas, but it's not impossible. Also, you can always spend time in close-by ski resort accessible for free.
On the weekends before Christmas, there are more people and tourists, but closer to Christmas Hallstatt will be more peaceful when compared to bigger cities like Vienna.
Hallstatt Christmas Market
Hallstatt's Christmas market may not be the biggest but offers a true small village atmosphere and interesting local products. Those who want to experience a lively Austrian Christmas can first go to Vienna and then continue to Hallstatt from there. It takes only 3/1/2 to 4 hours by train from Vienna. There are many Christmas towns in Austria because they are world-famous market organizers and Christmas parties.
Hallstatt – Top 10 things to do in Hallstatt (Click)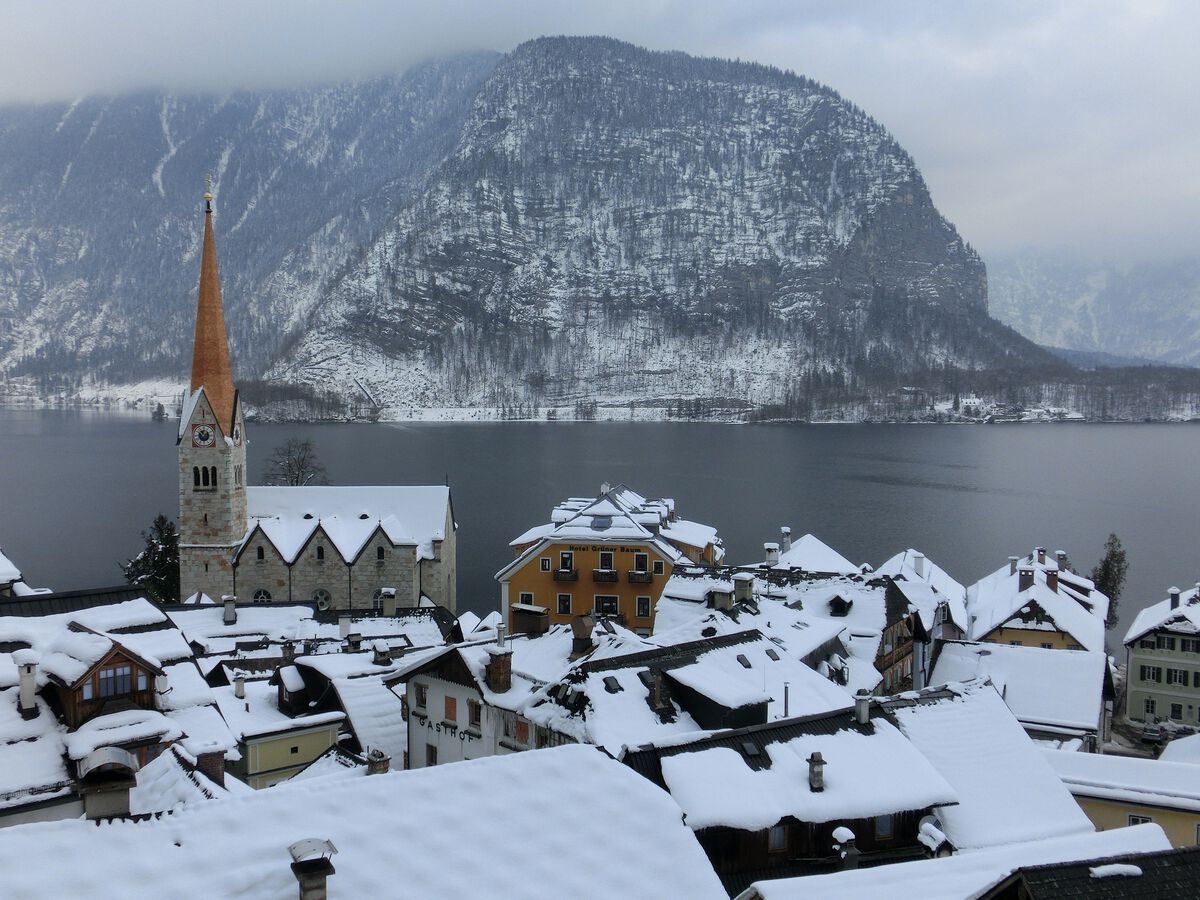 Prague, Czech Republic
Prague gives Christmas a traditional eastern European vibe. The Christmas markets offer hot drinks, colorful lights, and wonderful decorations.
Old Town Square's market
There are several Christmas markets around the city, but Old Town Square's market is the biggest and the most popular one. We recommend visiting several different markets to experience the whole Prague Christmas town atmosphere. Travel to the Czech Republic if you still have some gift shopping to do because they offer everything you would need for Christmas presents.
Stable at Old Town Square
One of the most popular things to see in Prague is the stable at Old Town Square. You can pet some sheep, donkeys and other animals. Kids love this, but even adults will get all warm-hearted after seeing the animals.
More Infos & Opening hours (CLICK)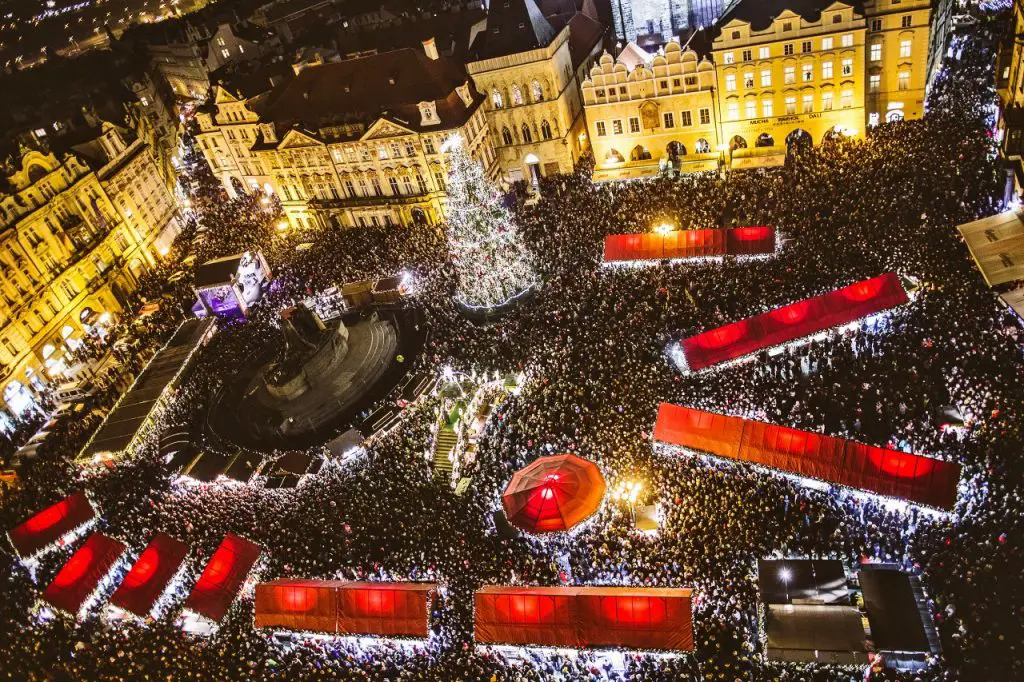 Nuremberg, Germany
About two million locals and tourists visit Nuremberg's Christmas markets every year, making it one of the most popular Christmas villages you should visit in Europe. The market only accepts real crafters and they don't want to sell normal tourist souvenirs like many other European markets.
Like in most German Christmas markets, you have to try the local gingerbread to get into the Christmas vibe. The sellers literally compete who has the most beautiful stand and so all 200 stands truly will charm you.
Christkind (Christ Child)
Nuremberg has its own tradition of Santa Claus and it is seen everywhere. In this part of Europe as well as in Austria and other European countries, Santa doesn't bring kids presents, the gifts are brought by the small infant named the Christkind (Christ child).
Every year Christkind opens the local Christmas market named Christkindlmarkt and thousands of people come to see the opening show every year. After walking around the market and old town, you can rest while taking a tour in a horse carriage that will take you around the beautifully decorated city center.
More Infos & Opening hours (CLICK)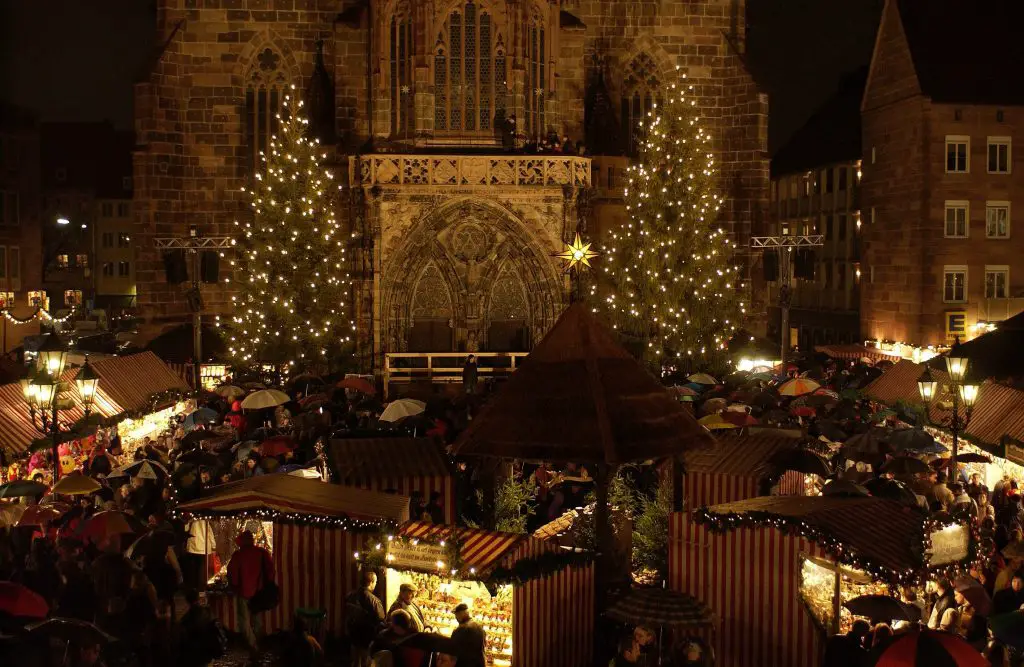 Strasbourg, France
The city of Strasbourg calls itself the capital of Christmas. Traveling there proves their point quickly as you can truly experience the Christmas vibe, colorful lights, and happy locals. Around the town, you can find different themed markets that take you to the wonderland of Christmas.
There are concerts, events, and other activities throughout November and December. Everyone from kids to couples will find something to enjoy.
Strasbourg's Christmas Market
has about 300 sellers and so it's one of the biggest in Europe. It also happens to be one of the oldest markets. Christkindelmärik market has been held since 1570 and it has long traditions. You can admire local craftsmen creating amazing artifacts.
There are also specialized Christmas markets for charities and food. The OFF Market is an alternative choice for those wanting something different. In addition, there are several other themed markets.
More Infos & Opening hours (CLICK)
Valkenburg, Netherlands
Valkenburg is a village of 17000 citizens in the Netherlands and a popular destination amongst holiday tourists.
It has one of the oldest indoor Christmas markets in Europe.
Walk around the large labyrinth-like markets full of products, gift ideas, and delicious food. If you wander long enough in the caves, you may even find Santa Claus with his reindeers.
Check out the local products and traditional Christmas foods every traveler should taste in the Netherlands. You have to pay an entrance fee to access these underground Christmas markets, but you will get a lot more than just shopping opportunities. They will tell you about the caves and there are many statues of Santa and his friends.
In addition to the cave markets, Valkenburg has also other things, making it the perfect Christmas village to visit in Europe.
Christmas Fairytales Parade happens twice weekly during November and December.
Route D'Amuse is one of the most popular activities in the town, where you can enjoy delicious amuses at several renowned catering places. You will get to walk around the Christmas village, see the Fairytale forest and visit Santa's village and Santa's gift factory
Valkenburg Christmas Markets (Click)
Tromso, Norway
Christmas doesn't always have to be about markets, activities, and places full of tourists. Norway's Tromso is an excellent alternative Christmas travel destination.
You can enjoy its magical village atmosphere by watching the natural Christmas lights aka northern lights or Aurora Borealis.
Just go outside when it's dark (it is dark, almost around the clock in the winter in Tromso) and look at the sky and you can admire the magic of the multicolored natural show.
If you are dreaming of a white Christmas, well this is guaranteed that you will have one in Tromso.
Tromso also has Christmas markets and several events before the holiday itself. The music scene is lively and, so you should see at least one Christmas concert.
Those who can afford it and are adventurous can book a Christmas cruise to see the fjords. No matter if you choose a cruise or if you rather stay in a resort, you will experience unique Norwegian Christmas traditions. There are many traditions in Scandinavia that differ from the rest of Europe and the world.
Tromso Christmas Markets (Click)
Rovaniemi, Finland
The one true magical Christmas village in Europe can be found in Rovaniemi in Finland.
This Santa Claus Village is the Homeplace of Santa Claus himself.
Every year, countless amounts of kids and adults visit Santa to tell him their wishes before Christmas. You can speak with Santa and even take a photo with him. Afterward, go and meet the elves. There are possibilities to do crafts, write gift letters, or shop for Santa Claus products. The village itself looks like a fairytale.
Santa Claus Village in Rovaniemi Location
Santa Claus Village is easily accessible from the Rovaniemi center by bus. In addition, to meet Santa you can also try traditional Finnish winter sports and play in the snow castle. Go skating, skiing, or hill sledding. You will see everyone from kids to adults having fun because your age doesn't matter in Santa's own village. Everyone is like a kid there. Just before Christmas, the village area is full of tourists and locals who want to get their piece of winter fun, but you can also visit outside of the Christmas season.
They also offer a husky ride or the opportunity to meet real Santa reindeers. We can't promise that Rudolph will be there, but other reindeers will keep you busy.
Tallinn, Estonia
Huge Christmas markets are often seen more like a middle European thing, but that is not the case. The northern parts of Europe have at least as many charming small villages full of Christmas atmosphere.
Despite being the largest city in Estonia, Tallinn also has many Christmas markets and due to its northern location, Tallinn gets more snow than most of the cities with the markets mentioned above. And even when there is no snow, the colorful buildings of the old town make sure that everyone has a good time.
Like any other Christmas market, Tallinn has small wooden stalls, music, colorful lights, and beautiful decorations. It's just not only the market areas but the whole Old Town is lit up to fit the atmosphere of a Christmas village.
The most important part of Tallinn's Christmas is the Christmas tree standing on the Town Hall Square. There are events every evening and if you want to have more of the Christmas spirit, you can visit
The Estonia Open Air Museum offers special Christmas programs with events, crafts, traditional foods, and a lot more.
Tallinn Christmas Markets (Click)
Conclusion
Of course, there are many more Christmas markets to visit all around Europe, but as I cannot list them all, I tried to compile the best-known ones and as Christmas is just around the corner, planning early is a good way to ensure a pleasant holiday vacation.
Some of the destinations mentioned on this list are really popular and may sell out on the advantage. But even last-minute bookers can plan Christmas visits with our list.
You just have to pick out which magical village you want to visit and combine them according to your destinations.
Related Blog Post
Save