Last Updated on August 29, 2022 by gregor

How Ambrose turns the High Tea into a highlight……
As Dubai is a dazzling vibrant city, one might be looking for a calming and serene retreat to spend time with friends, family or business partners.
Well, there is the perfect setting for this: The afternoon tea served at the Lobby Lounge of the Ritz Carlton Dubai!
Experience your tea in all its sophisticated glory in an elegant and luxurious atmosphere of this famous location – inviting you to sit down and enjoy while listening to the gentle sound of the harpist playing for the guests….
Gentlemen's Tea
Ambrose, the well-established and incredibly competent waiter recommended the Gentlemen's Tea…a perfect choice if you are already in the mood to start in the evening! Besides the delicious fairy cakes and variations of finger sandwiches, a selection of high quality meat dishes such as Wagyu beef burgers, beef tartar or slices of duck breast – arranged to also please your eyes – will delight your tongue!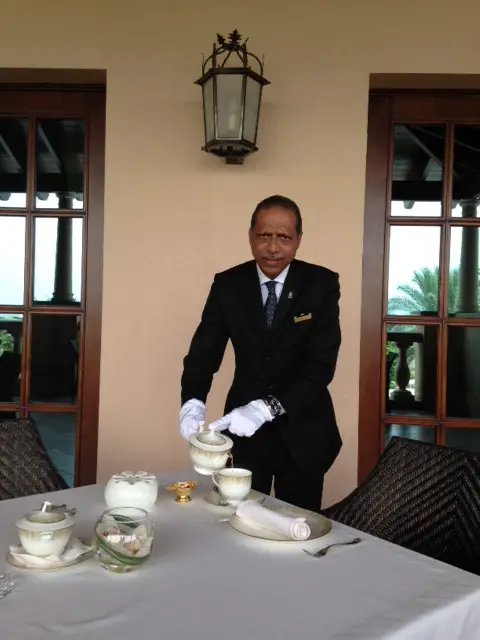 Listen to Ambrose's passionately elucidating the various selection of tea blends……a highlight on its own….then lean back and watch him preparing everything for you while explaining – relaxation and enjoyment guaranteed!
Whisky flight
Why not complete this with the Whisky flight to make this tea even manlier. No need to mention Ambrose recommends and describes all details about the selection of Whisky samples in his so glowing attitude!
The Traditional Treat, The Royal Treat and the Gentlemen's Treat
The Traditional Treat is high tea as you know it.
The Royal Treat includes a lass of champagne. Mindful that it was early afternoon I opted for The Gentlemen"s Treat, which I was told was a selection of tea sandwiches, freshly baked scones, pastries, Waguy slider, beef tartare and tea leaves of my choice.
…you can't get more quintessentially English than afternoon tea at The Ritz in the famous Lobby Lounge.
The Tradition
Taking afternoon tea at The Ritz has become somewhat of a regular feature in the social calendar of many a socialite and lady-who-lunches and I was under no assumption that it would be any different on UAE soil. Of course, for those in the know The Lobby Lounge,with its high wooden ceiling and Palladian windows is actually the architectural showpiece of The Ritz-Carlton Dubai.
Summary
All in all it was a sedate, stylish way to spend an afternoon, perfect for catching up with friends or treating visiting family. The harpist who plays throughout the afternoon from 3pm provided a blissful, relaxing ambience that could easily see  you while away hour upon hour savouring delicious treats whilst escaping the hustle and bustle of the outside world.
Thanks for wonderful collaboration with Ritz Carlton Dubai & FlyDubai