Last Updated on October 17, 2023 by gregor
Discover the Alpine Oasis: Hotel Goldener Berg, Lech, Arlberg, Austria 2023
Nestled amidst the majestic Austrian Alps, the Hotel Goldener Berg in Lech, Arlberg, is a hidden gem waiting to be explored. This enchanting Alpine retreat is the epitome of luxury, offering a harmonious blend of natural beauty, impeccable service, and a myriad of activities to indulge in. If you're seeking the ultimate alpine experience, look no further than the Hotel Goldener Berg. In this blog post, we'll take you on a virtual journey through this captivating destination and inspire you to plan your own unforgettable visit.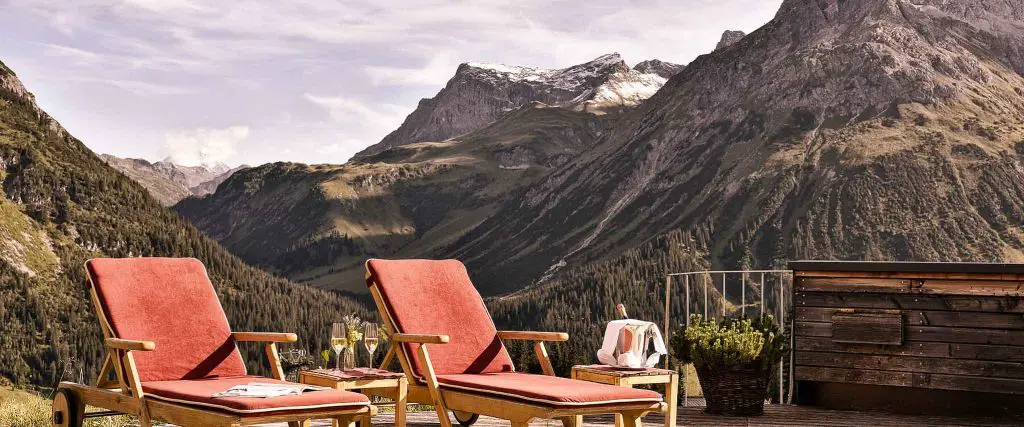 Arlberg: A Playground for All Seasons – Summer and Alpine Ski Winter
The Arlberg region, often called the "Cradle of Alpine Skiing," is a year-round paradise for outdoor enthusiasts. Located in western Austria, it boasts a picturesque landscape with snow-capped peaks in winter and lush green meadows in the summer. Whether you're an avid skier, a hiking enthusiast, or simply a nature lover, the Arlberg region has something to offer everyone.
Welcome to Hotel Goldener Berg
As you arrive in Lech, you'll be greeted by the charming village and its traditional Austrian architecture. Perched high on the mountainside, the Hotel Goldener Berg offers a warm and inviting welcome. The hotel effortlessly combines modern luxury with alpine tradition, creating an atmosphere of comfort and elegance that will make you feel right at home.
Luxurious Accommodations
The Hotel Goldener Berg features a variety of accommodations to suit your preferences, from cozy rooms to spacious suites. Each room is meticulously designed with an emphasis on both style and comfort, offering breathtaking views of the surrounding mountains. Whether you choose a Classic Room or a Deluxe Suite, you'll immerse yourself in an ambiance of rustic charm and modern convenience.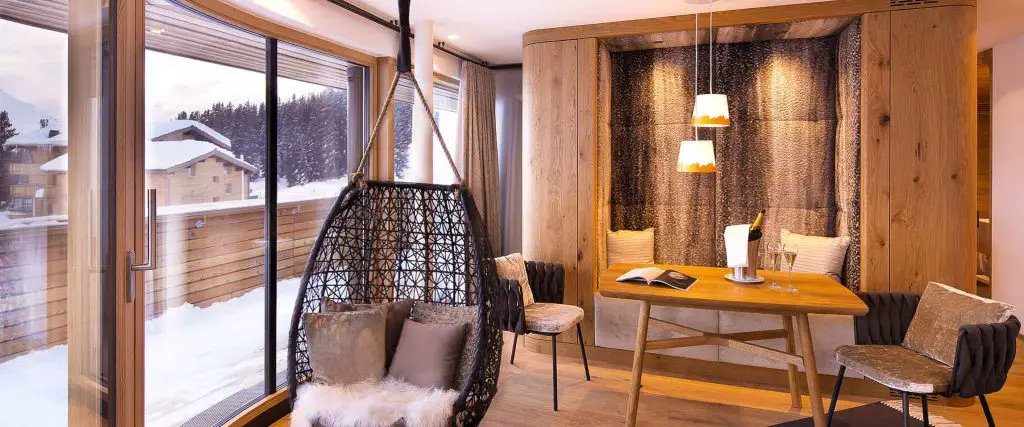 Culinary Delights
The guests are served with love and attention to detail in 4 restaurants in the hotel. The daily changing menus invite you to enjoy dining at our restaurants.
In summer, you can enjoy our alpine natural cuisine for lunch or in the evening on our Panorama Terrace with a stunning mountain panorama on the terrace or in the Dirndlstüberl.
Enjoy this experience for all your senses for a supplement of €62 in winter and €46 in summer per person per day. (Prices may vary, pls check the website, the Link at the End of this article)
The Dine Around package is only bookable in advance and must be booked for the duration of your stay.
Look forward to: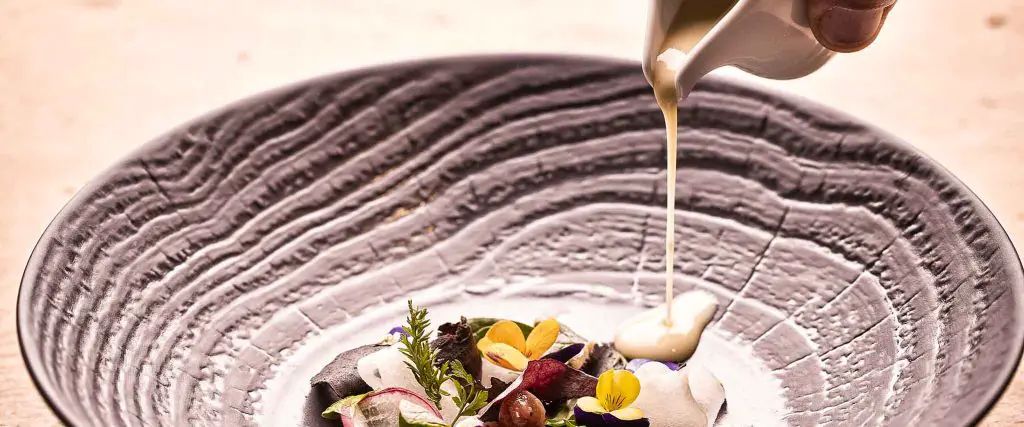 Wellness and Relaxation
After a day of exploring the slopes or hiking the scenic trails, unwind and rejuvenate at the hotel's spa and wellness center. The Goldener Berg Spa is a haven of tranquility, offering a range of treatments and facilities to pamper your body and soul. Enjoy a relaxing massage, soak in the outdoor hot tub with panoramic mountain views, or take a dip in the indoor pool. It's the perfect way to soothe tired muscles and recharge for the adventures ahead.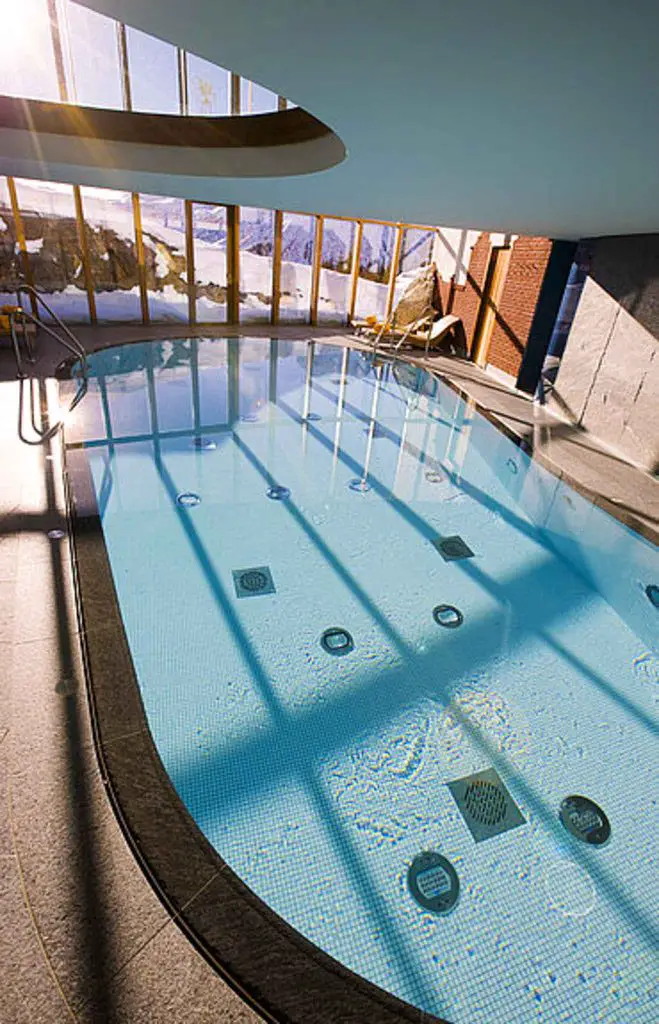 Activities for All Seasons
The Arlberg region is famous for its skiing and snowboarding, and Hotel Goldener Berg is ideally situated for winter sports enthusiasts. With direct access to the slopes, you can start your day on the mountainside and ski right back to the hotel in the evening. The Lech-Zürs ski area is part of the larger Arlberg ski region, offering a vast playground for skiers and snowboarders of all levels.
In the warmer months, the mountains come alive with hiking and biking trails that cater to all skill levels. Explore the alpine meadows, breathe in the fresh mountain air, and witness the vibrant flora and fauna of the region. The hotel's knowledgeable staff can assist in planning your outdoor adventures, ensuring you make the most of your time in this pristine natural environment.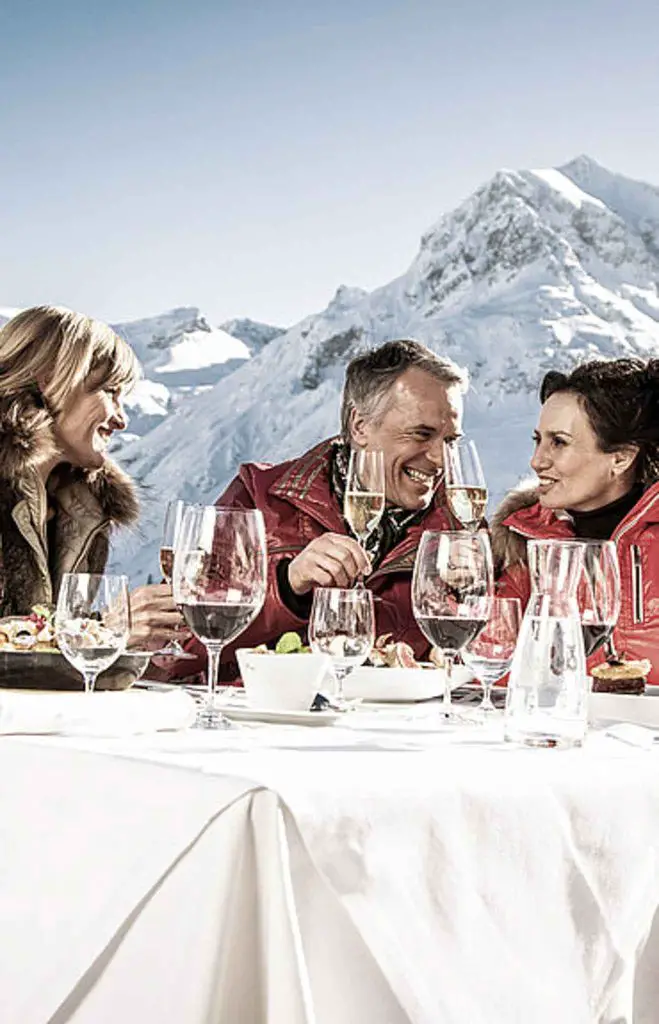 Exploring Lech and Beyond
While the Hotel Goldener Berg offers an array of activities and amenities to keep you entertained, it's also worth exploring the charming village of Lech and its surroundings. Stroll through the quaint streets lined with boutique shops, sample traditional Austrian pastries at local cafés, and immerse yourself in the rich culture of the region. Don't miss a visit to the Lech-Oberlech Museum, where you can learn about the history and heritage of this alpine community.
Events and Celebrations
Whether you're planning a romantic getaway, a family vacation, or a special celebration, the Hotel Goldener Berg has you covered. The hotel hosts a variety of events and celebrations throughout the year, from wine tastings to themed dinners. If you're looking to tie the knot in a stunning alpine setting, their dedicated team can help you plan the wedding of your dreams against the backdrop of the Austrian Alps.
Getting to Hotel Goldener Berg
Reaching the Hotel Goldener Berg is a breeze, despite its secluded location in the Alps. The nearest major airport is Innsbruck Airport (INN), approximately a 1.5-hour drive away. Alternatively, Zurich Airport (ZRH) and Munich Airport (MUC) are both within a 2.5- to 3-hour drive.
Once you arrive, the hotel provides convenient transportation options to ensure a smooth journey to your mountain oasis. You'll be welcomed with traditional Austrian hospitality, and the hotel staff will make sure your every need is met.
Why Choose Hotel Goldener Berg?
Choosing the Hotel Goldener Berg for your alpine getaway means embracing a world of unparalleled luxury, adventure, and relaxation. Here are a few compelling reasons why this hotel should be on your bucket list:
1. Ski-In, Ski-Out Convenience: Enjoy direct access to the slopes, making it effortless to hit the ski trails in the winter and embark on hiking adventures in the summer.
2. Culinary Excellence: Savor the delectable flavors of Austrian cuisine and fine wines at the hotel's restaurants, promising a gastronomic journey you won't forget.
3. World-Class Spa: The spa and wellness center is a sanctuary for rejuvenation, offering a range of treatments and facilities to help you unwind and recharge.
4. Spectacular Views: Wake up to breathtaking mountain views from your room and savor the beauty of the Austrian Alps right outside your window.
5. Year-Round Activities: With skiing, snowboarding, hiking, and biking at your doorstep, you'll find endless opportunities for adventure no matter the season.
6. Personalized Service: The dedicated staff at Hotel Goldener Berg goes above and beyond to ensure that your stay is nothing short of exceptional.
Plan Your Visit to Hotel Goldener Berg
The Hotel Goldener Berg in Lech, Arlberg, Austria, is more than just a place to stay; it's a destination in itself. Whether you're a nature lover, an adventure seeker, or simply looking to unwind in a luxurious alpine setting, this hotel offers an experience like no other.
Begin planning your visit to Hotel Goldener Berg today and prepare to be enchanted by the natural beauty of the Austrian Alps, the warmth of the local hospitality, and the luxury of this exceptional retreat. Create memories that will last a lifetime as you immerse yourself in the Alpine oasis that is Hotel Goldener Berg. Your journey to the heart of the Austrian Alps awaits – book your stay and make your dream alpine escape a reality.
Contact and Plan Your Stay
We hope this article has ignited your desire to experience the alpine luxury of Hotel Goldener Berg in Lech, Austria, in 2023. For inquiries, reservations, and additional information, please feel free to reach out to the attentive staff:
Website: www.goldenerberg.at
Hotel Goldener Berg
A-6764 Lech
+43 5583 / 220 50
Contact: https://www.goldenerberg.at/en/contact/
The dedicated Hotel Goldener Berg team is here to assist you in planning your unforgettable Alpine retreat. Don't hesitate to contact the Hotel with any questions or to book your stay.