Last Updated on March 26, 2023 by gregor
Have you been looking for the best luxury boutique hotels in Vienna? In many cases, finding stunning hotels in Vienna for your stay can seem like a challenge. However, there are so many exceptional properties available in this breathtaking location if you just know where to start your search. With this thought in mind, today, we're looking at some of the best luxury boutique hotels in Vienna that will truly pamper you. After all, whether you're a local resident looking for a change of scenery for a few days or visiting Vienna and want to stay somewhere truly luxurious, there's a hotel in this beautiful region for every guest!
What to Look For From The Best Luxury Boutique Hotel in Vienna
Before we go any further with today's article, it's first worth considering what makes a luxury boutique hotel in Vienna so special, in the first place. Of course, there are several things that go into this decision.
Some of the most notable features that make a Viennese hotel much more than any other establishment include the following points. If you're not sure where to look with these, though, don't worry. We've done all the hard work to find stunning Viennese hotels that meet these themes, and we'll outline these shortly.
Value for Money Services
When we think of luxury hotels, value for money isn't something that immediately springs to mind. However, when staying in a luxury boutique hotel in Vienna, you want to be sure that you're getting great value for money.
That's not to say that you should look for a hotel that offers a luxury stay for an ultra cheap price – they don't often go hand in hand! However, your chosen luxury boutique hotel in Vienna should nevertheless be one that delivers good value for money. That is to say, you should get plenty for the price; you're paying good money for your luxury hotel stay, so you want to be sure you see an amazing experience in return.
Luxurious Furnishings
It should go without saying that, when looking for a luxury boutique hotel in Vienna, you'll want to be treated to the best furnishings. Indeed, top-quality furnishings can transform your experience while staying in Vienna, helping you enjoy a restful night's sleep and a truly pampering experience. Furthermore, if you ask us, it's well worth considering that luxury boutique hotels often have a far greater budget to invest in lavish furnishings – so, these really ought to come as the norm, in our experience.
Excellent Connections
If you're visiting Vienna on holiday, we strongly recommend looking for a luxury boutique hotel in Vienna that's got great connections. This may be less important for residents of Vienna looking to drop out for a short while; however, if you're here on holiday, there is so much to see and do. As such, we strongly recommend choosing a luxury boutique hotel that's in the heart of the action – or close to easy transport links – to make exploring this exceptional city a little easier.
Amazing Extras and Amenities
When staying in Vienna, it's well worth considering the different extras and amenities on offer through your chosen luxury boutique hotel. Of course, not every hotel will necessarily offer the same options. However, if you're paying good money for a luxury boutique hotel experience, we recommend going all out with amazing amenities. This simple change can help you enjoy an unforgettable experience during your trip.
Customer Service
When booking your luxury boutique hotel in Vienna, customer service is one factor you should always keep at the forefront of your mind. Indeed, many people overlook this; however, when staying in a luxury boutique hotel, you deserve to be pampered! So, don't settle for a self-serving experience; you deserve a pampering holiday with all of the luxury and sophistication!
The Best 11 Luxury Boutique Hotels in Vienna
Now that we've outlined some of the most important things you should look for from your chosen Viennese hotel, we've come up with some key suggestions that may help your search. Of course, everyone wants something a little different from their chosen luxury boutique hotel in Vienna. As such, we've made sure to pick out a wide range of properties (so you know that there'll be an option for you)
#1 The Guest House Vienna
If you're looking for a stylish, luxurious stay in Vienna, the five-star Guest House Viena is a great place to start your search. Don't let the name fool you; it's an exceptionally luxurious five-star hotel with absolutely everything you could want from a luxury boutique hotel in Vienna.
With some of the finest Austrian wine and beer (all for free in your own personal minibar) to state-of-the-art audio systems, marble-inspired room décor, and more, it's one of the most loved destinations in Vienna. Plus, it's located in the very heart of Vienna; therefore, no wonder where you plan to explore for the day, you'll be able to get there easily.
While you're here, be sure to visit the amazing on-site brasserie and bakery. Trust us – it's an experience in its own right!
#2 Hotel Sans Souci Wien
Located just a minute's walk from the exceptional Kunsthistorisches Museum Wien and the Hofburg Wien palaces in the 7th district, Hotel Sans Souci Wien is irrefutably one of Vienna's most widely adored hotels locally. Combining lifestyle and art, the hotel achieves a breathtaking contemporary look and feel, finishing each room to a meticulously high standard overall.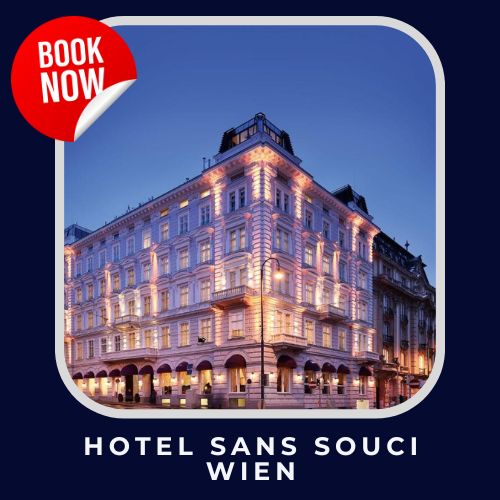 Guests can pamper themselves during their stay with the on-site day spa, beauty and massage parlor, and exquisite crystal-clear swimming pool. Meanwhile, with such exceptional connections to the local area, you'll never be at a loss for places to visit during your stay. The hotel also boasts its very own chic hotel restaurant and formal bar; in short, whatever you need, you'll be catered for during your trip.
#3 Park Hyatt Vienna
This exceptional five-star luxury boutique hotel in Vienna is one you'll want to save up for. Indeed, a stay here doesn't come cheap; it's one of the most expensive hotels in the region. However, if you can justify the price, you will be in for an experience that you will never forget.
Located centrally within the bustling 1st district of Vienna itself, the hotel is rich in character and charm. In fact, it's actually located within a former 1900s bank – so you immediately know it's going to be sophisticated.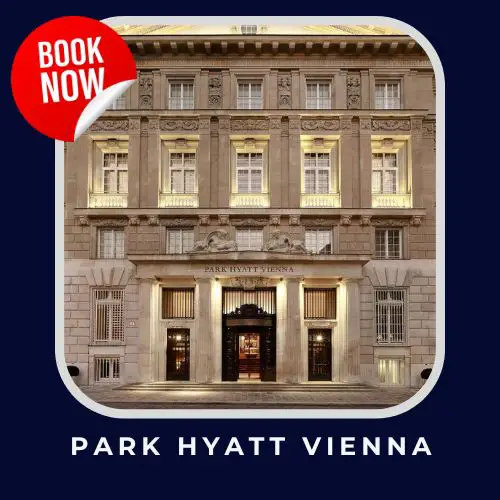 The Park Hyatt Vienna undeniably doesn't let you down in terms of glamor and style; with a lavish restaurant, its own cocktail bar, and even a whisky/cigar lounge, this incredible hotel offers it all. Additional on-site amenities for guests to enjoy include the heated indoor swimming pool, a fitness center, a business center, and even a refined tea room.
#4 Palais Coburg
Located in Vienna's first district, the Palais Coburg is undeniably one of the most luxurious and refined boutique hotels in Vienna. With its very own wine bars and wine cellars, you know you'll be treated to luxury when you visit the hotel's fine dining restaurant. Meanwhile, with stunning cathedral views from many of the suites, as well as whirlpool tubs, saunas, separate living rooms, rooftop terraces, antique furnishings, and so much more, it's an experience you will never forget.
The Palais Coburg hotel was built in the mid-19th century, based on Neoclassical styles, by Prince Ferdinand of Saxe-Coburg himself. As such, if you've always dreamed of living the royal life, a visit to Palais Coburg might be just what you deserve.
#5 Andaz Vienna Am Belvedere
Are you looking for a five-star luxury boutique hotel in Vienna experience but can't justify spending thousands on your holiday accommodation alone? If this is the case, the Andaz Vienna Am Belvedere might be your perfect destination.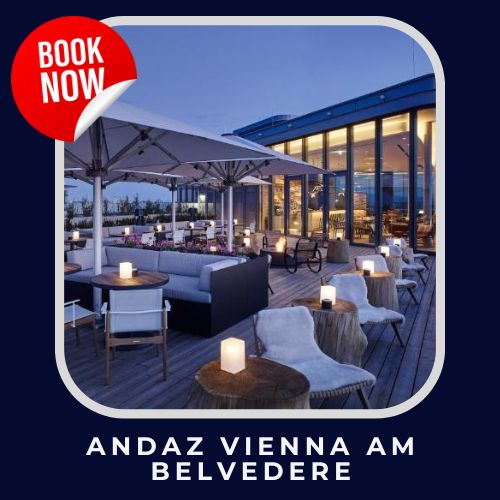 Located within the tenth district, the hotel is perfectly located to balance exceptional value for money with a refined and luxurious experience. Meanwhile, additional features such as the iconic rooftop bar, expansive hotel rooms, and stunning contemporary designs help make any stay here one to remember. The hotel also offers a fitness center, spa, full room service, an on-site restaurant, and more – making it hard not to love as part of your holiday.
#6 The Harmonie Vienna
The Harmonia hotel in Vienna is built into two breathtaking, fashionable, and artistically decorated 19th-century buildings in the Alservortadt neighborhood. The hotel itself strives to offer something a little different from the norm, claiming to "dance to its own tune." As such, it's a simply unforgettable destination that's perfect for anyone wanting a luxurious, memorable stay in one of Vienna's historic locations.
The Harmonie hotel captures Old Vienna's authentic, relaxing spirit, helping ease you in for a holiday that's filled with luxury and refinement. The friendly atmosphere is something that many guests adore about the Harmonie hotel – and it might make your stay even more special, too.
#7 The Ritz-Carlton, Vienna
As soon as you mention "The Ritz," you know you'll be in for an exceptional and luxurious experience. And that's just as true with the iconic Ritz-Carlton hotel in Vienna, which is perfectly located in the first district for access to the entire city.
There's something truly magical about the Ritz-Carlton, Vienna. Perhaps the most striking feature of this breathtaking property is its stunning combination of Renaissance, Baroque, and Gothic architecture. These different styles help transform the once palatial building into a refined, luxurious, and exquisite hotel that's hard to rival in terms of luxury.
The Ritz-Carlton offers its very own steakhouse, a lobby lounge, an indoor pool, a spa, a fitness center, and even a traditional bar. As such, you know you'll be well catered for at all times during your stay.
#8 The Ruby Marie Hotel and Bar
For a more affordable experience, we strongly recommend considering a visit to the iconic and breathtaking Ruby Marie Hotel and Bar 4-star hotel. While it doesn't offer quite the pomp and ceremony of many other local hotels in the 7th district, this breathtaking property is ideal for anyone wanting a slightly more relaxed luxury boutique hotel in Vienna.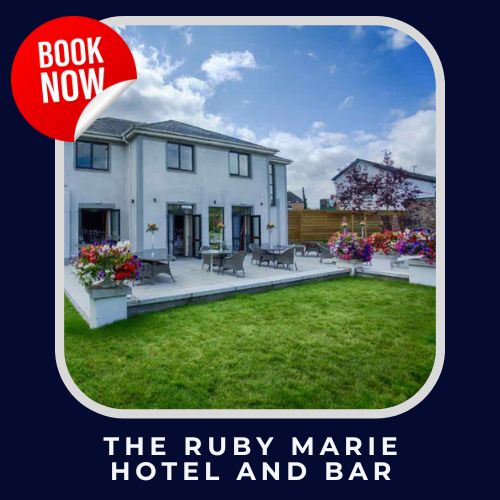 The hotel offers its very own rooftop terrace bar, breathtaking city views, contemporary room designs, and a delicious continental buffet breakfast that's sure to delight any diner.
#9 Steinberger Hotel Herrenhof, Wien
The masterfully designed Steinberger Hotel Herrenhof is undeniably one of the most picturesque properties in Vienna. It's no surprise, then, that so many people have chosen to stay at this exceptional hotel. With full room service and spa facilities on offer, you'll be treated to a truly pampering stay during your time in Vienna. The hotel also boasts of its own restaurant, bar, and fitness center, ensuring every guest will find something they adore.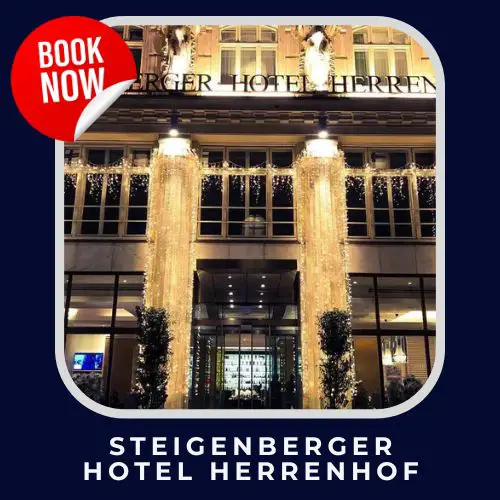 #10 Das Capri
The breathtaking Das Capri is located centrally in the heart of the second district, making it the perfect hotel to balance affordability with style and glamor. Even better yet, this incredibly 4-star luxury boutique hotel in Vienna is also located just a three-minute walk from the nearest Metro, making it effortless to explore Vienna and all of its amazing sights.
The contemporary, minimalistic style of the rooms makes them pleasant and easy to relax in; meanwhile, the stunning city and courtyard views are worth the price in their own right. Some rooms even have balcony access, making for a splendid way to enjoy the time. It's also pet-friendly, which is relatively uncommon among many luxury boutique hotels in Vienna.
#11 Hotel Am Stephansplatz
The name might sound a little laughable to an English audience, but don't be fooled; the Hotel Am Stephansplatz is irrefutably one of the most gorgeous locations in Vienna.
In fact, the hotel sits directly opposite the breathtaking Saint Stephen's Cathedral, and every room is packed with the same stylish and artistic flair as you would expect for such a property. Marble walls, luxurious furnishings, parquet floors, and more are all excellent additions that help make this gorgeous hotel truly extra-special.
Final Thoughts
If you've been planning to visit Vienna, very few options are better than staying in a picturesque, top-quality Viennese hotel. And, with numerous luxury boutique hotels in Vienna to choose from, you'll genuinely be spoiled for choice. Booking a luxury hotel can really help ensure that, no matter your preferences from a Viennese hotel, you'll always be treated to a holiday of a lifetime.