Last Updated on July 11, 2017 by gregor
Aria di Festa …. Feiern wie die Italiener …. das San Daniele Prosciutto Festival
For the English version please scroll down,..
San Daniele di Friuli …. ein Ort im Friaul, der Name ist uns vertraut … wir kennen den berühmten Prosciutto der nur hier produziert wird …… einmal im Jahr organisieren die 31 lokalen Produzenten gemeinsam mit dem gemeinsamen Konsortium das große Fest rund um das einzigartige Produkt aus diesem Ort …. Ein wunderbares Fest mit dem bedeutungsvollen Namen `Aria di Festa´…….
Prosciutto di San Daniele – Aria di Festa – ein Fest wie kein anderes
Jedes Jahr im Juni verwandelt sich San Daniele in einen großen Festplatz…. einen Spielplatz …eine chillige Lounge Area mit DJ Sound…. eine große Party…. ein Fest rund um das einzigartige Produkt, dass die 31 Produzenten seit vielen Jahren mit spezieller Sorgfalt und unbeschreiblichem Know How herstellen……ein Produkt dass mehr als perfekt geeignet ist um zu Feiern …. Und das wird zelebriert …. Mit unzähligen Ständen an denen man den berühmten Prosciutto und auch andere regionale Produkte verkosten kann …. Kochkurse, Workshops für die perfekte Schneidetechnik, kulturelle Darbietungen wie Konzerte und historische Informationen rund um den Ort und seine Tradition….
mit Freunden…mit der Familie…den Kollegen …. den Nachbarn …oder einfach mit den vielen gut gelaunten Besuchern des Festes – die die Freude am Genuss und der Atmosphäre teilen!
San Daniele und Prosciutto – die perfekte Kombination
Wenn man San Daniele besucht erkennt man schnell, dass sich dieser Ort der Produktion des perfekten Prosciutto verschrieben hat …. und das seit vielen Jahren und über viele Generationen. Wir durften eine Führung durch einen der Betriebe machen …. und vieles lernen über die Produktion und das Geheimnis der einzigartigen Qualität dieses Schinkens! Ist es Zufall, dass dieser besondere Prosciutto ausgerechnet in San Daniele produziert wird …. nein …definitiv nicht…. Nirgendwo anders sind die Bedingungen so außergewöhnlich …. so einzigartig ……. so ideal …für die Herstellung dieses wunderbaren Prosciutto!
31 Produzenten und ein gemeinsames Ziel – der perfekte Prosciutto für den perfekten Anlass!
Das Konsortium der 31 Prosciutto Produzenten in San Daniele vertritt die gemeinsamen Ziele aller Hersteller – wie zum Beispiel bei der Organisation des Prosciutto Festes `Aria di Festa´……
´Aria´ bedeutet Luft…kein Zufall, dass dieses Wort für das Fest gewählt wurde – denn das spezielle Micro Klima in San Daniele und die außergewöhnlichen Wetter Verhältnisse sind die Grundbedingung für die perfekte Reifung der Schinken …. Keine Klimaanlage, keine künstlichen Einwirkungen …. nur die natürlichen klimatischen Bedingungen in der Gegend von San Daniele ermöglichen die natürliche Reifung über 13 Monate …diese Voraussetzungen, Meersalz und das Fleisch von regional gezüchteten Schweinen sind nötig für die Entstehung des berühmten Prosciutto di San Daniele….
Das nächste Fest … Geburtstag? Jubiläum? Verlobung? Hochzeit?
Italiener sind bekannt dafür die großartigsten Feste zu feiern…nur die richtigen Gäste, die passende Umgebung und – natürlich – kulinarische Überraschungen in Form von Speisen und natürlich Getränken sind dazu nötig…… Wenn San Daniele das berühmte Schinkenfest feiert sind alle gerne dabei – Politiker, Sportler und Künstler aus der Region sind nur zu gerne dabei und feiern mit den zahlriechen Besuchern……
Das gemeinsame Anschneiden des Prosciutto di San Daniele immer etwas Besonderes …. und verleiht jeder Feier oder Party den nötigen Glamour – egal ob ein besonderer Geburtstag, ein Jubiläum oder ein romantischer Anlass wie eine Verlobungsfeier oder eine Hochzeit – ein Stück Prosciutto – oder noch besser ein ganzer Schenkel – verleiht macht aus jedem Anlass etwas Einzigartiges …. Wann immer man die Gelegenheit hat San Daniele zu besuchen und den berühmten Prosciutto zu probieren sollte man ein Stück für das nächste Fest mitnehmen – wahrlich ein spezieller Genuss!
---
Aria di Festa …. Celebrating like the Italians do …. The San Daniele Prosciutto Festival
San Daniele di Friuli ….  a small l town in Friaul, a familiar name for most of us …. we do of course know the famous smoked ham – the Prosciutto – that is produced exclusively here …… once a year the 31 prosciutto producers together with the 31 locally based organization the great festival honoring the towns famous Prosciutto …. A unique sparkling event with the meaningful name `Aria di Festa´……. Aria meaning 'air' referring to the special climate that makes the prosciutto so famous… 'festa'  – of course – means celebrating…..!
Prosciutto di San Daniele – Aria di Festa – a festival like no other  
Every year in June the town of San Daniele turns into a festival area…. a playground…. a chill out lounge with DJ sound …. a vivid party zone Sound…. a festival celebrating the unique product manufactured here since many years with incomparable expertise of the 31 producers! Prosciutto di San Daniele is a perfectly suited to celebrate – and this is what people do here …. countless booths offering Prosciutto and other regional products – and – of course Prosecco and other typical Italian drinks……. Cooking classes or workshops about the perfect slicing technique or cultural shows like concerts or historic lectures covering the town of San Daniele and its tradition round up the festival……
Share the atmosphere and the joy of pleasure … with colleagues…. Neighbors…. or simply with all the guests in good mood visiting the festival – who do share the outstanding joy and atmosphere….
San Daniele und Prosciutto – the perfect combination
Everyone who visits San Daniele will immediately realize the dedication of the town and its inhabitants to the production of the more than perfect Prosciutto …. the concretely stated goal since many many years and over generations.
Luckily, we had the chance to have explore the secrets of the productions in one of the manufacturing sites. The guided tour – led by a member of the owning family – gave a deep insight to the complex production process of the Prosciutto di San Daniele—- is it a matter of coincidence that this incomparable quality of prosciutto can only be created here in San Daniele – well, it is not!
Nowhere else in the world the conditions do enable the fresh ham to get mature and develop the outstanding aromas the micro climate …. the regional available pork ham and the sea salt – combined with the handmade preparation — no better reason to visit this town….
31 producers and a united aim – creating the perfect Prosciutto – to enhance the perfect reason!
The consortium representing the 31 producers of prosciutto takes over the responsibility to organize the 'Aria di Festa 'in San Daniele…. 'Aria' stands for the air – especially the micro climate – that is responsible for the natural maturing process of the prosciutto … unsurprisingly the name of the festival….
No additional or artificial ingredients or high tech air condition are needed to create the outstanding taste of the San Daniele Prosciutto …… it is made solely of the meat pigs born and bred in Italy and sea salt. The unique micro climate in San Daniele and the hilly area around completes it – nothing else is necessary to enable the perfect maturing process over 13 month!
The next occasion … a birthday? An anniversary? An engagement …. Or a wedding?
Italians are famous for their way of celebrating wonderful parties …. No more than the right guests, the ideal surrounding and – of course – the perfect culinary surprises – delicious food and tasteful drinks are needed! When San Daniele invites to the famous Prosciutto Festival everyone is more than happy to join – politicians, athletes or artists from the region are coming to support the festival …………!
The first cut into one of the perfectly shaped Prosciutto legs always is a special moment – and adds glamour to any party or celebration – it might be a birthday, an anniversary or a romantic reason like an engagement or even a wedding – serving Prosciutto freshly sliced from a whole leg will always add a very special touch to it!
Whenever you have the chance of visiting San Daniele do so – and explore the towns unique tradition making the perfect prosciutto – try it and take it home to surprise friends and family – an incomparable culinary experience!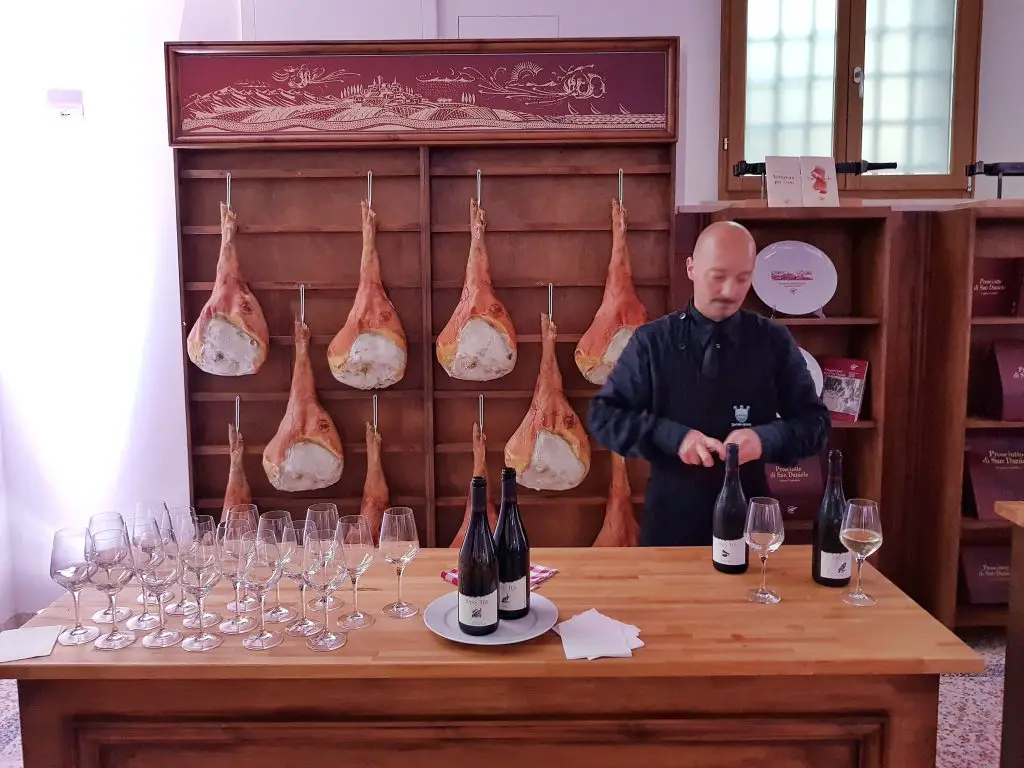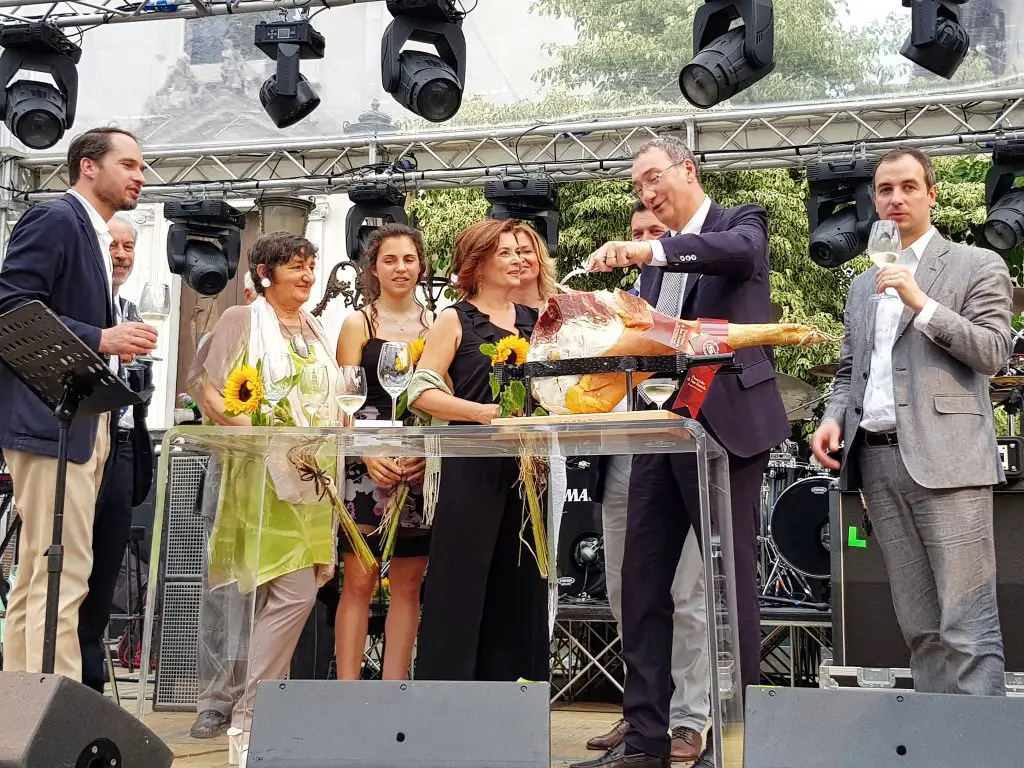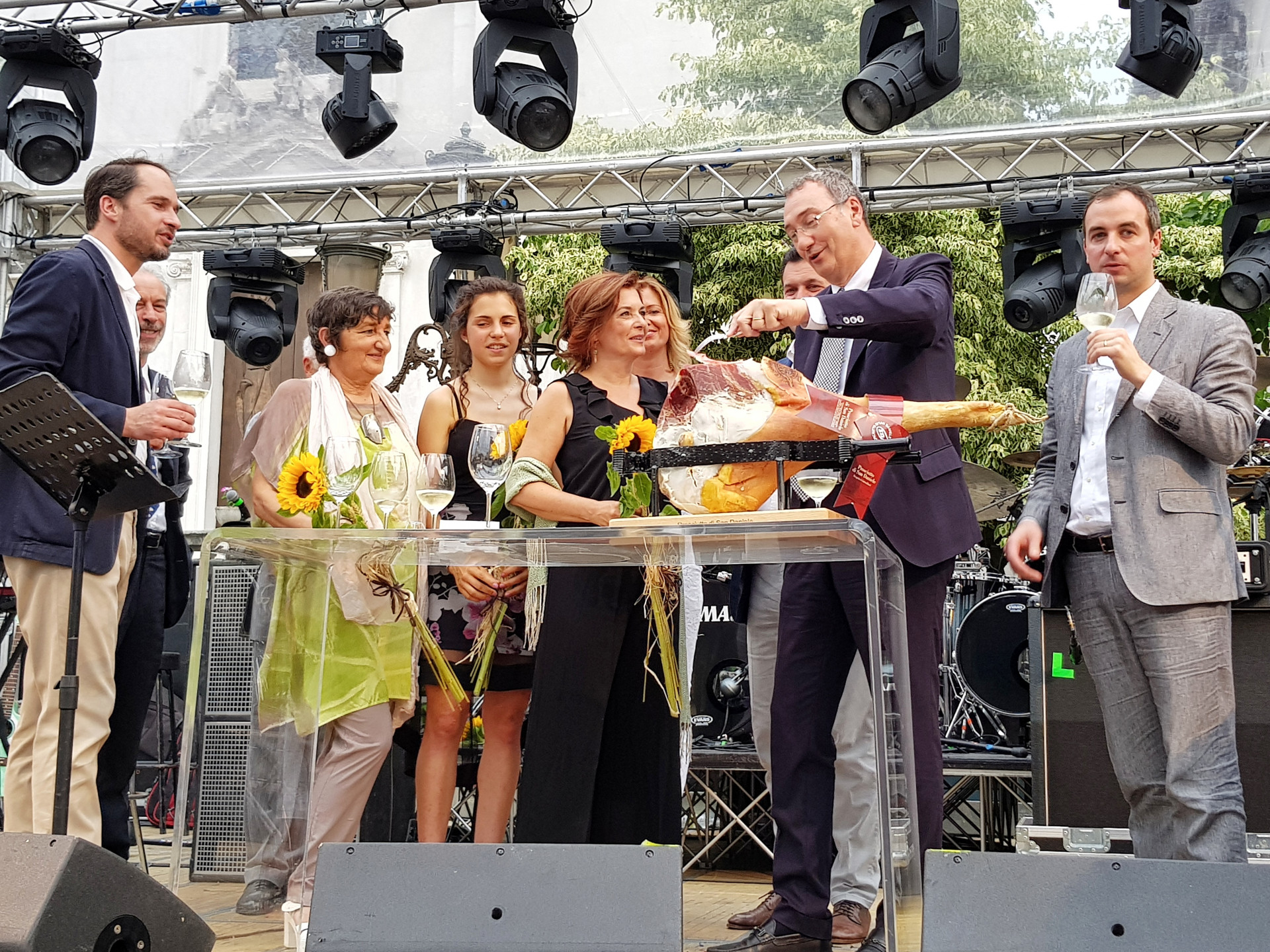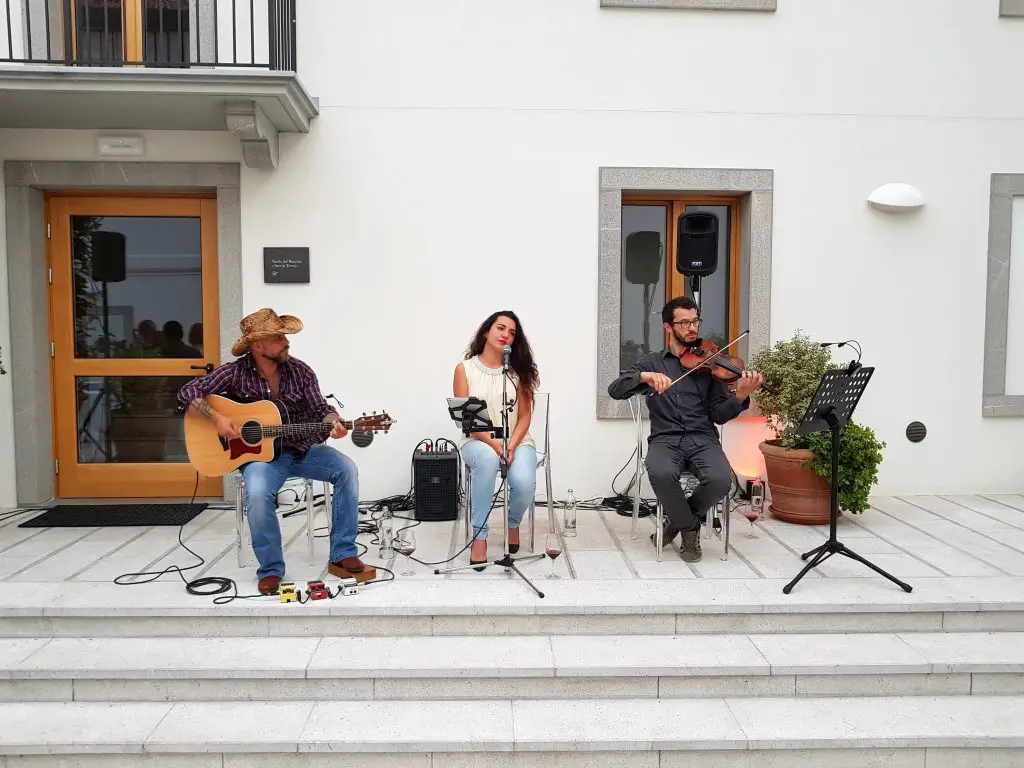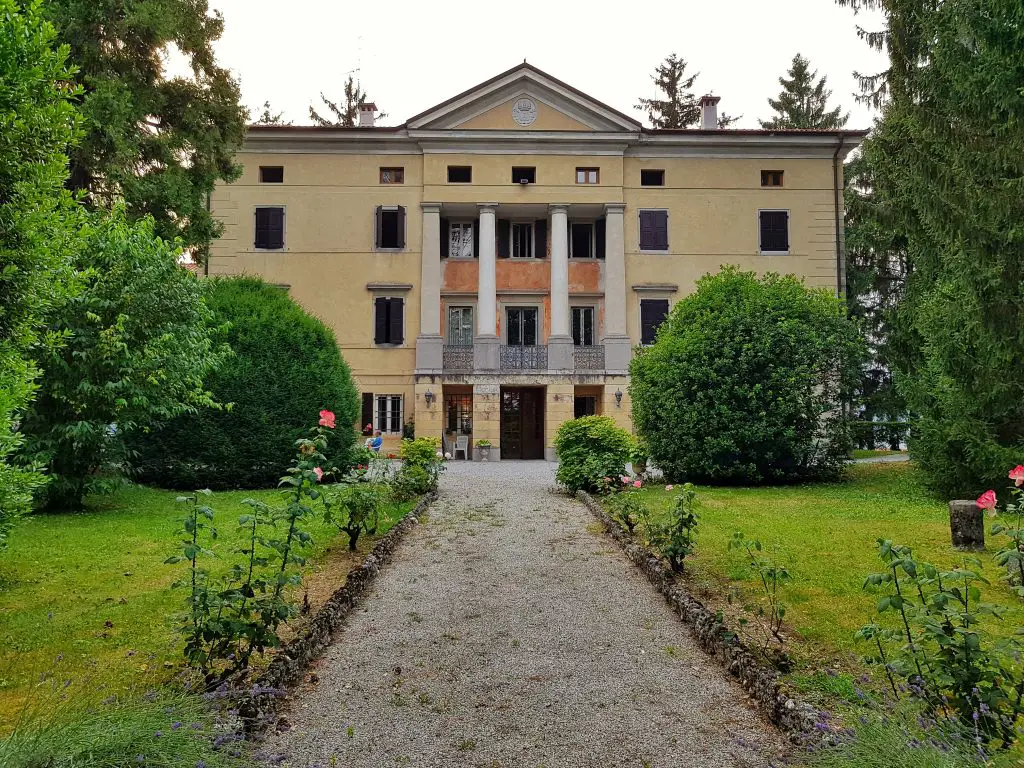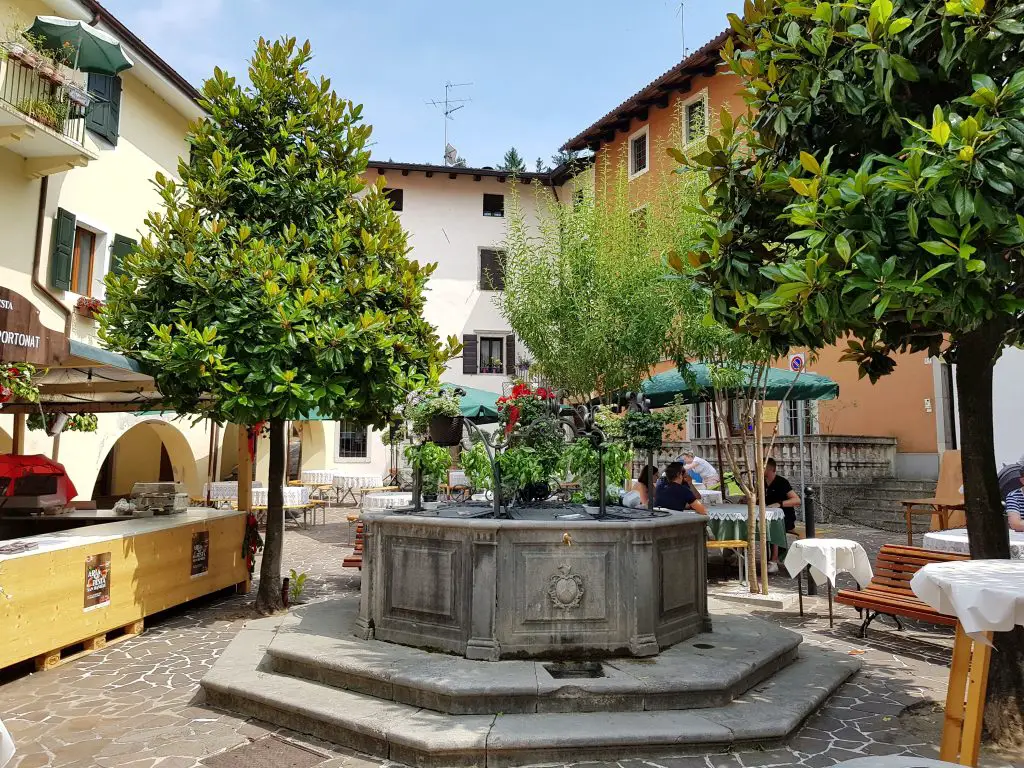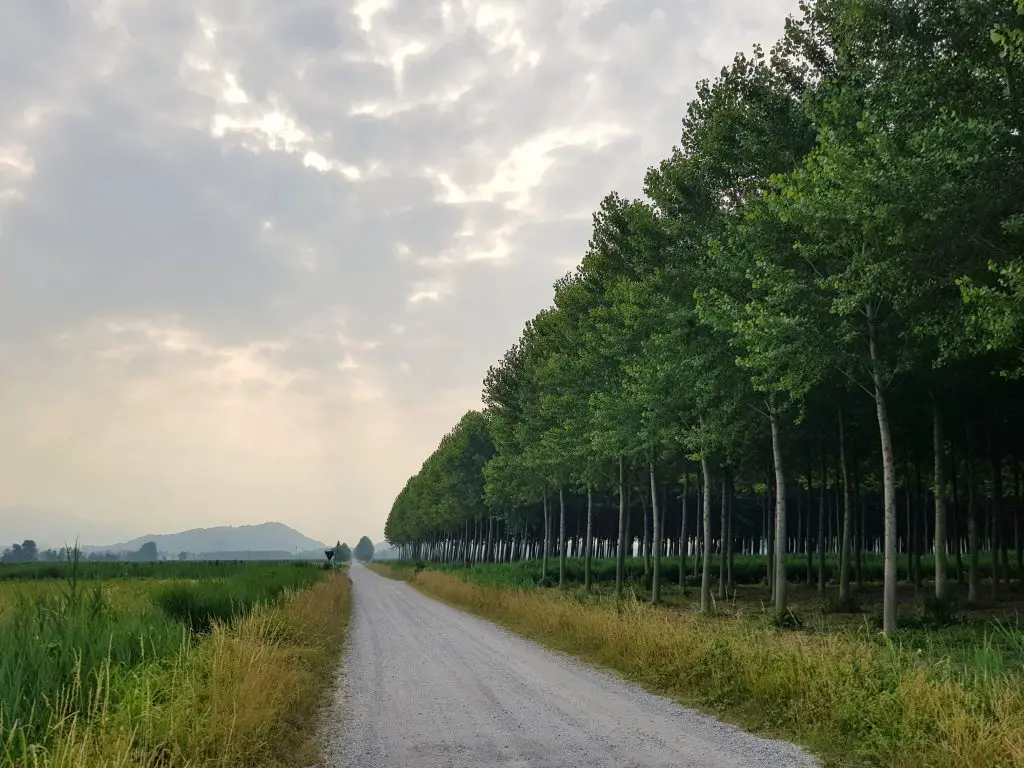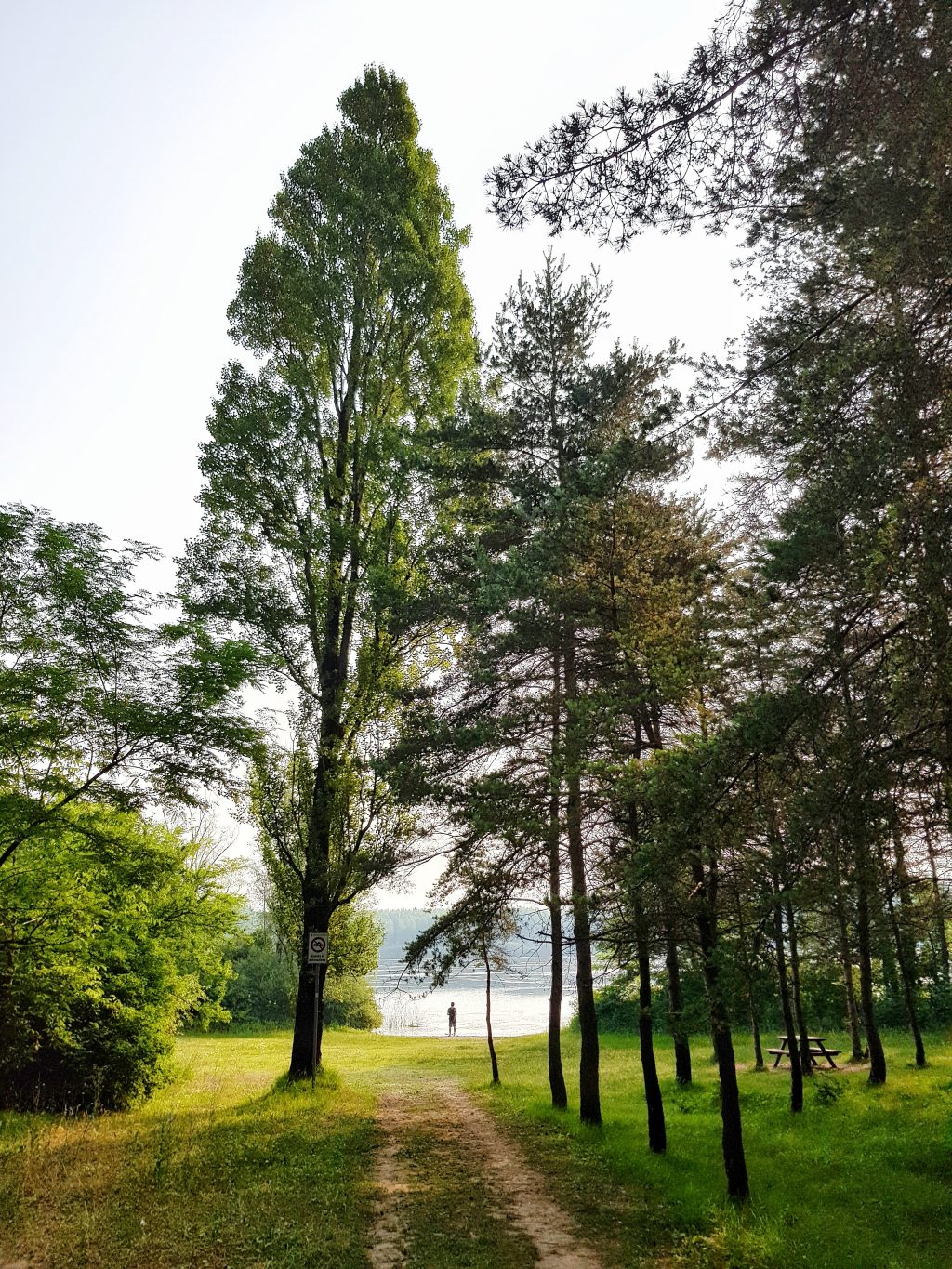 Save
Save
Save
Save
Save
Save
Save
Save
Save