Last Updated on May 4, 2018 by gregor
Mid of March Braun, the world's most trusted* grooming brand, invited international Press and Bloggers from all over the world to the Spanish capital Madrid. Hosted in the lovely Boutique Hotel Ursu, we could experience the world of Braun and test first-hand Braun's latest styling and grooming tools, and most importantly get to meet one of Europe's most celebrated football players, Raphael Varane.
After a warm welcome by the Paola Mulas Global Braun Communications Manager (middle) we attended the expert's workshops
Dan Gregory, Braun Global Grooming Ambassador

Dan Gregory. The specialist has just been appointed Global Ambassador of Grooming of Braun, his fame is worldwide and London celebrities come to his beauty salon to get the perfect image.
"For men, the face is our way of reinforcing the identity, our masculine forms are on the face, and we have a very simple change of image thanks to this, modifying our facial hair," explains Gregory on the importance of having an identity marked on that sense.
To get the best possible result, Dan Gregory used a Braun Series 9 during his practical and theoretical explanation: "I really like this type of razor because it allows you to play with the curves and the lines of the face, it does not force you to cut straight. 'as traditional knives do,' confesses the expert.
The first trick that gives us is that we do not use the ears as reference to fix the pins, because they do not have to be at the same height the right of the left. To get the two pins to be perfect, we recommend measuring the distance with 'fingers' of the hand. Once the measurement is done, start shaving by areas, following an established and routine order
Divide the face into five parts is essential, both cheeks, the area of ​​the knob and the mustache and neck. You have to perform smooth movements from top to bottom gently. At this point Gregory insists that we do not pass the 9 Series with a strong grip on the area, but that we do it gently and without pressure "is not necessary" .. Although he advises that we always follow the same direction, he sees a 'tolerable' option perform turns during shaving following the curves of the face.
Once we have shaved the previously defined areas, we must not forget the precision blade for details. Thanks to this addition we can refine the zone of the sideburns and the part closest to the nose.
Finally, he advises us to use a slightly moist and warm towel on the face for five minutes to rest the skin and help it cool down.
Paola Bosch, Fashion seminar
Paola is a wardrobe Stylist and works with the Read Madrid football players. She inspired us about the latest Men's style trends. Masculinity undone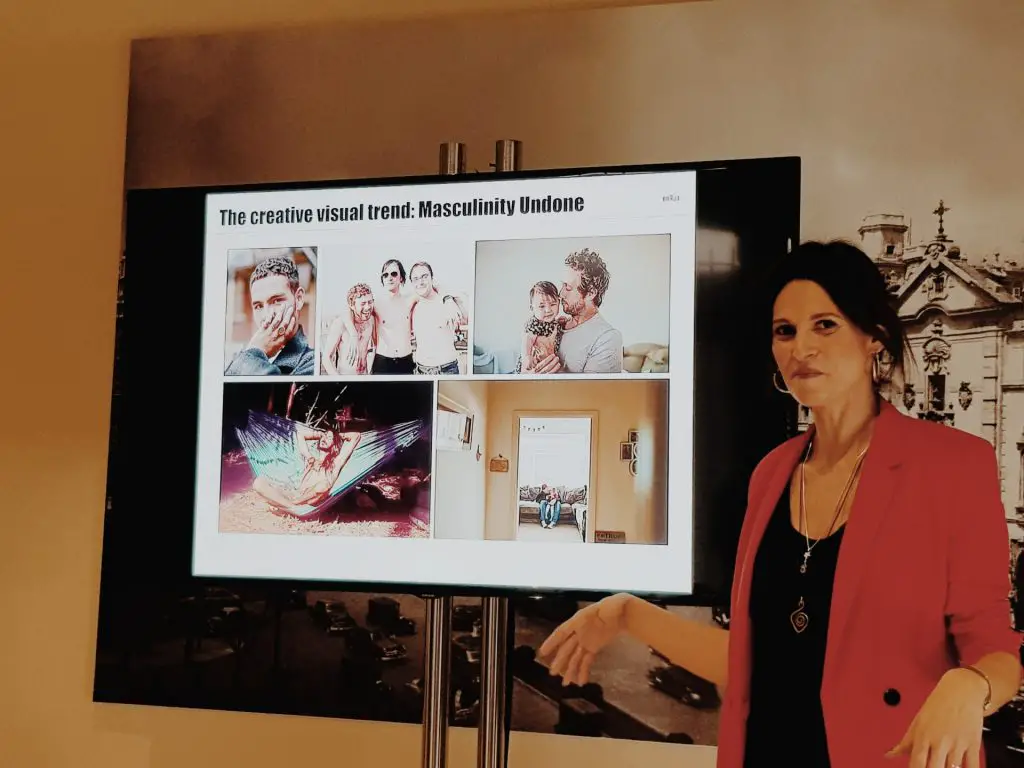 The beard. The new big trend!
Haircut creativity has no limits!
More Inspirations and style trends by Paola!
Rafael Varane, the Style icon of Read Madrid
More about Paola Bosch and her work, www.paolaboschstylist.com (Click)
In the Evening we attend the Media Dinner at the famous Ramses Life restaurant in Madrid
The next morning,….
Workshop with Ben Wilson, Braun Industrial Designer
Ben is the strategic lead of Technology & Design Communications for Global Braun, During the workshop Ben talked to us about the Braun Series 3 ProSkin and the new multi-grooming kit (every man desires a kit like this in their bathroom).
Interview with Raphael Varane, Read Madrid
I had the chance to sit down with international footballer Raphaël Varane, the new Brand Ambassador of the Braun Series 3 ProShave, while I had been in Madrid and discuss what style and grooming really meant to him.
Raphael Varane is center-back of the probably best soccer team in the world, Real Madrid.  He's additionally a defender on the French National Team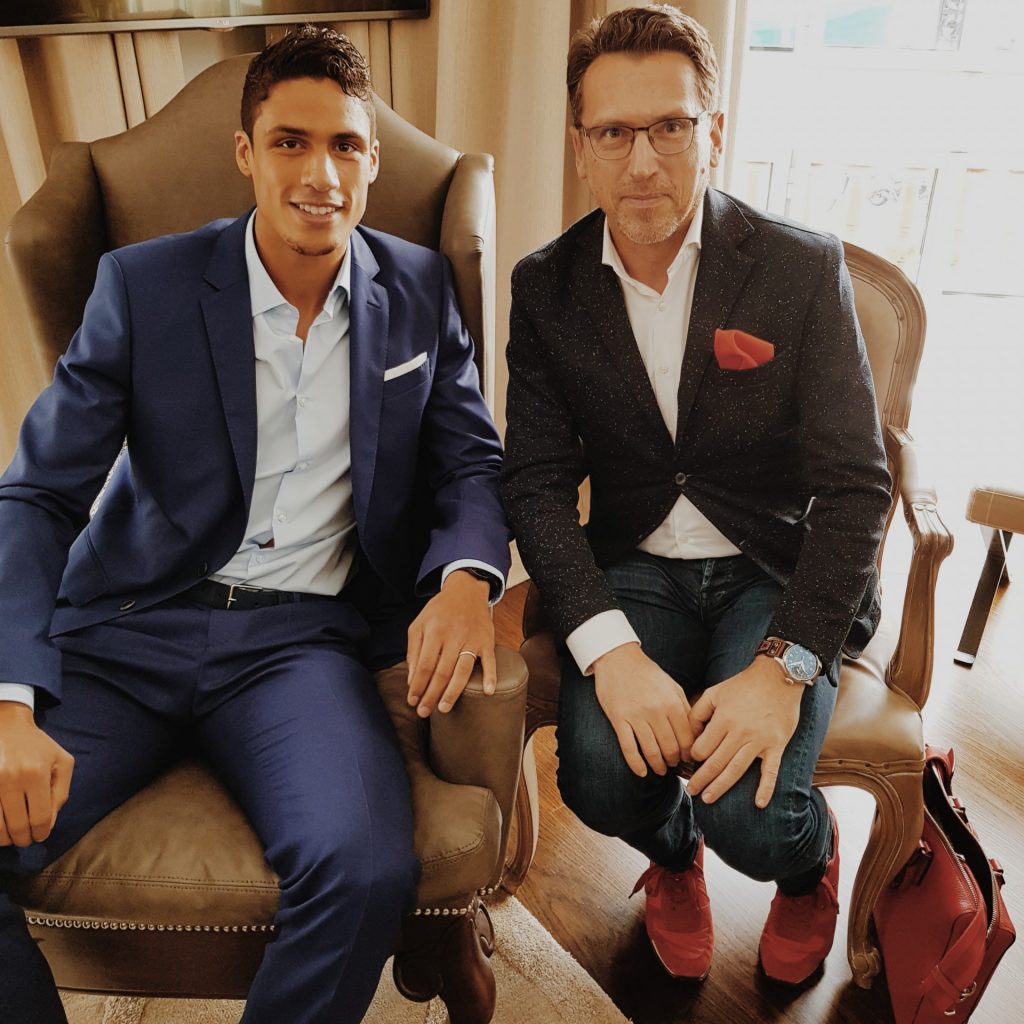 It's commonly recognized that style is essential for men. Do you agree?
Yes, of course look is important. It's essential to feel good, to have self-assurance in one's self, and to assert one's self. Besides that, I think we live in a world where image is growing more and more, so for sure it's necessary that, from first thing in the morning, to take care of yourself. For me it's both logical and important.
Needing to present yourself in the excellent way, however having such a demanding schedule, how does playing football has an affect your grooming routine?
Yes, of course as footballers we're media figures, we're also identified in our daily lives, on the street, everywhere, so it's vital from first thing in the morning to take care of yourself. I always shave in the morning to get ready. It has an influence on us because if you just choose to step onto the street to stroll your dog you can't go badly groomed. So naturally in your everyday life you have to be careful, and then shave before a match. It's necessary to feel good and to sense comfortable. That's why I like the Braun S3 ProSkin and styling tools so much. They enable me to accomplish my personal fashion with ease, so I can focus on what matters – enjoying football.
 
How much time do you really dedicate for your morning grooming routine?
Generally, in the morning, I'd say about forty minutes to get ready. This includes cautiously choosing my clothes and time to shave and do my hair. I also use hydrating cream to take care of my skin.
How frequently do you get that haircut, and have you ever had a haircut that you sincerely want you had by no means done?
About every 10 to 15 days. I'm buddies with my hairdresser, who's additionally the hairdresser for other players like Karim Benzema. As far as a haircut that I would have wanted to avoid, there was once one when I started out as a professional when I had long hair with braids, you can still locate the photos. Aside from that, I'm not ashamed of having done it, I wanted to do it and I'm happy, but if I had to pick one it would be that.
How would you describe your personal style?
Well as I said, I try to be as stylish as possible. Aside from that, it depends on the situation I'm in. If I am at home with my son, my fashion will be extra relaxed. If it's for an event or match, you strive to be extra elegant and classy. Beyond that it depends, but I constantly strive to take care in the way I look.
What do you put in your dopp kit?
There's deodorant, cologne, toothbrush, toothpaste, hair gel, and of course my Braun S3 ProSkin.
Where did you find your style inspiration?
Well, at first, I suppose it starts with one's personality. Growing up, it's about defining your tastes and your preferences. I assume I'm stimulated via the whole lot that I see in the world round me, and it influences what I desire and what I decide on and what I like as a style.
Do you have a style idol?
I'm inspired through everything, there's no single character or idol.
Now let's talk a little bit about your Braun Ambassadorship
You are the New face of the Braun Series 3 ProSkin! Why did you pick Braun and why did Braun select you?
Well, first due to the fact Braun is a brand that I like a lot and that I use. I use their products already and have constantly been a fan of the Braun Series 3 ProSkin. I additionally like the values that they represent, that they defend. It's a manufacturer that chose me due to the fact of what I represent and the values that I defend. So, it's a partnership that's tremendously logical, in terms of image I think, because it's something that fits to me, that I use, and I like. And that's why I like it and I like working with Braun.
As a Braun Brand ambassador, maybe you can supply my readers with some advice or some suggestions?
My recommendation would be to follow what you like and express your character thru your style. It relies upon if you decide on a more classic look or something more extravagant. If you suppose you appear precise with the beard, then it's all good. Elegant. Stay as you are.
All About the Braun Series 3 ProSkin
With nearly 100 years working at this genuine issue, Braun gets it–and they're always attempting to make grooming a little bit better for you.
By shooting more hair in the first stroke, the Braun Series 3 ProSkin makes your grooming activities so easy, that you can focus on other components of your day instead of shaving.
Built to tackle a long weekend's well worth of stubble, the Series three ProSkin is a device rigorously tested to make sure it will cope with the job you lay out in the front of it.
The Series 3 ProSkin uses an advanced MicroComb technology that guides hairs into the trimmer, reducing overall shaving time. This leads to less skin irritation by cutting short and long hairs simultaneously. Add to that a sophisticated shaving system of three independently rotating cutting elements and two SensoFoils that are able to adapt to every facial contour, and you get a comfortable shave faster than any of Braun's competitors. And if speed is what you're after, use this wet or dry – whatever is best for you – to keep you moving throughout your day with ease.
The Braun Grooming Kit
The ultimate all-in-one face, hair, and body Grooming Kit from Braun uses the latest cutting element technology to ensure that the blades last for the lifetime of the trimmer. Whether it's precision trimming your bits down below or contour edging that well-groomed beard, you have 13 precise length settings to keep it all under control. With four detachable combs and a running time of up to an hour, the four multi-grooming kits from Braun ensure maximum precision and ultimate versatility to enable you to focus on what really matters.
In wonderful cooperation with Braun
Learn more about the Braun products (German CLICK)
Learn more about the Braun products (English CLICK)