Last Updated on September 6, 2022 by gregor
The Dstrikt Steakhouse is a farm-to-table steakhouse for meat and local produce lovers. Guests experience an authentic local dining adventure enjoying the finest selection of Austrian meat cooked on a charcoal grill.
Here are the 7 Things to know about the DSTRIKT Steakhouse – The Ritz-Carlton, Vienna
First – The Steakhouse Interior
It is the combination of good food and homey ambiance – wooden and leather furniture fill the space and create a special atmosphere …. rustic yet cozy ….! Modern design features adorn the ceiling and give the room a simple, stylish, and timeless character. It is the combination of simplicity, rustic design, and modern fragments that give the restaurant space and character – guests do not feel crushed, can fall into a comfortable chair and enjoy a good meal – a glass of Champaign might be perfect to start in a relaxing evening——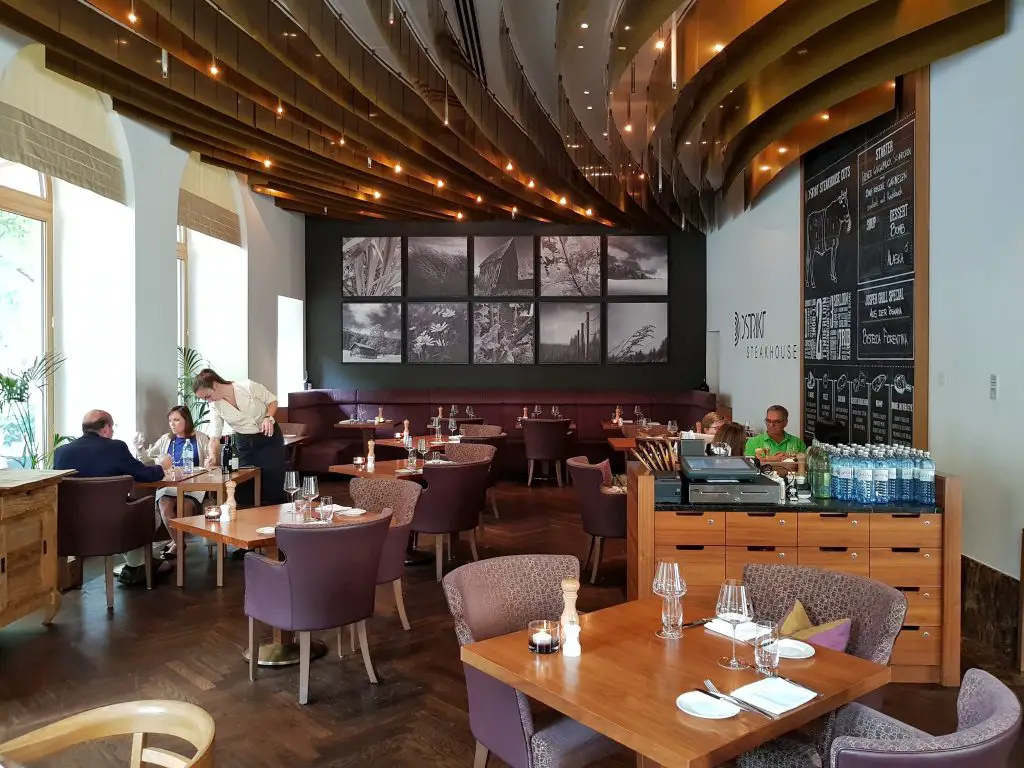 Second – a great choice of twelve different steak knives
What an inspiring idea to let the guests choose between twelve different steak knives. Each individual steak knife tells its own story and impresses with the best quality and – different – design.
The handmade ´Forge de Laguiole` knife is just as stunning as real damask knives from Japan or Güde knives from Germany.
The celebrated knife cult at the ´DSTRIKT´ complements the choice of a tasteful high-quality steak perfectly – topping most of the other steakhouses….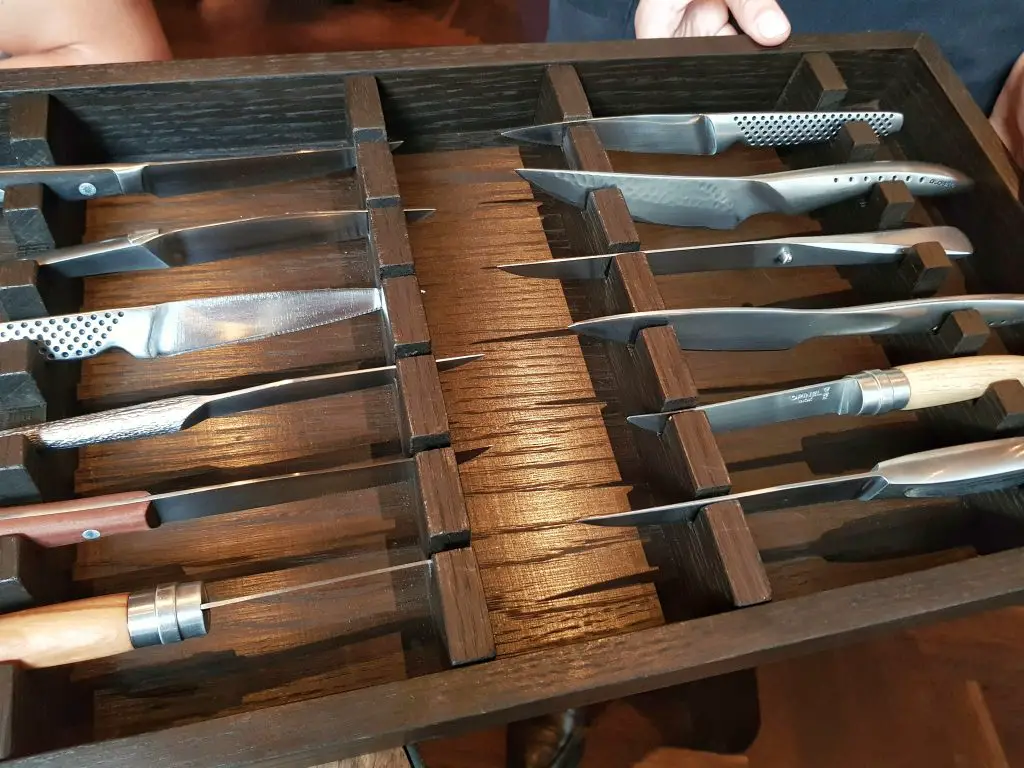 Third – the large selection of meat, sauces, and side dishes
A promising start maybe with ´Beef Tartare`- freshly minced biological beef spiced and mixed to your individual taste right at your table…… The pleasingly high level can be maintained at the main course – the high-quality assortment of different pieces of meat will be presented to the guests to choose from directly …  if desired – I highly recommend doing so – you´ll never pick the wrong one!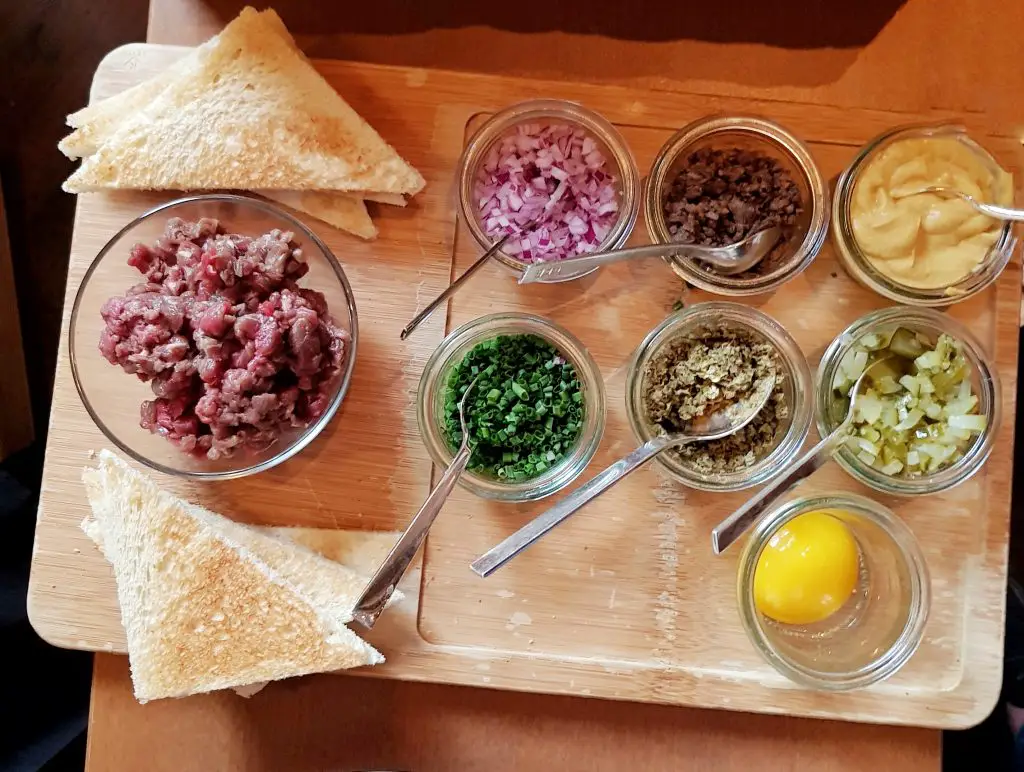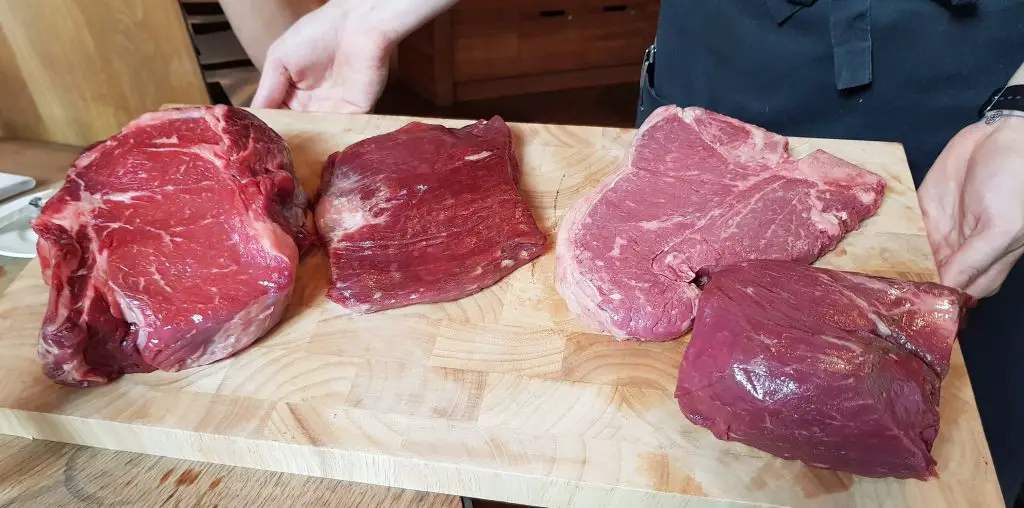 Otherwise, you can find vivid descriptions on the menu or simply have one of the friendly staff members explain it to you – so you know what you are getting into! Getting hungry……? …. depending on your appetite you also need to consider the sizes – the offer ranges from a filet of 180 grams, a tasteful flank steak of 300 grams to powerful pieces like the T-Bone steak of 500 grams or Chateaubriand of 600 grams – basically offered for two ………some people do it all alone ……. complete your order with choosing one of eight different sauces and eleven different side dishes ……and enjoy….
Link to the menus: http://www.ritzcarlton.com/en/hotels/europe/vienna/dining/dstrikt/menu
Fourth – the Steak experience
The steaks are served to your desired taste – medium rare, medium, or well-done – excellently supplemented by the smoky aromas……! Great sauces like port wine onion, green pepper, or chimichurri round up the tasteful experience….no more words are needed – try it yourself!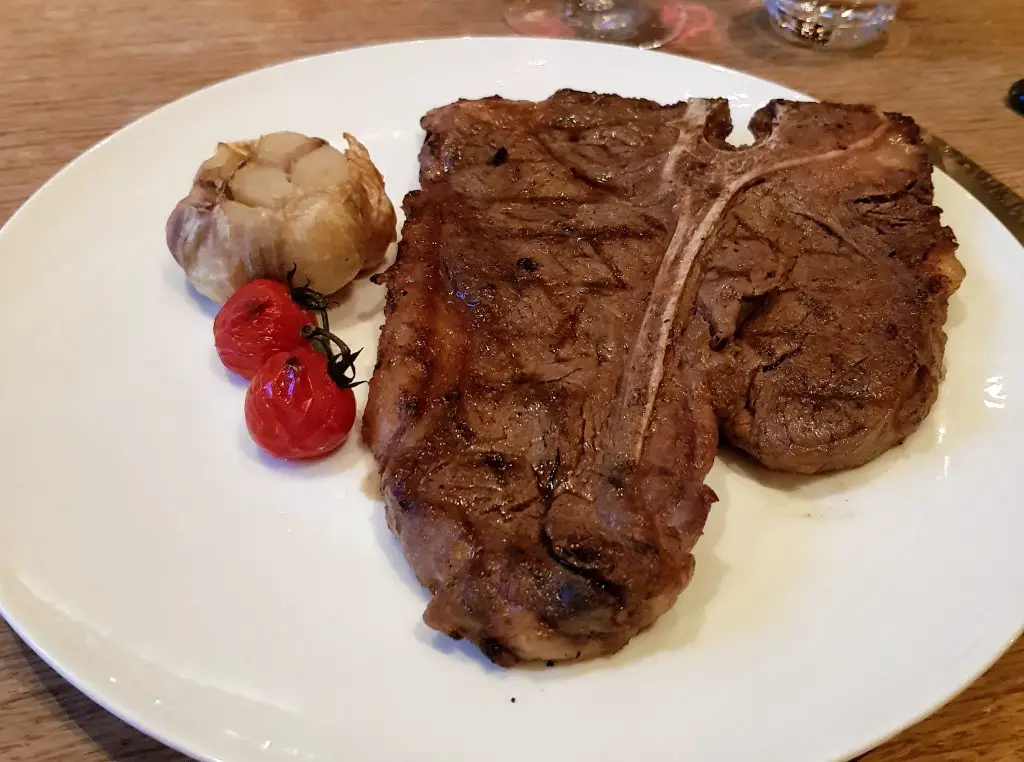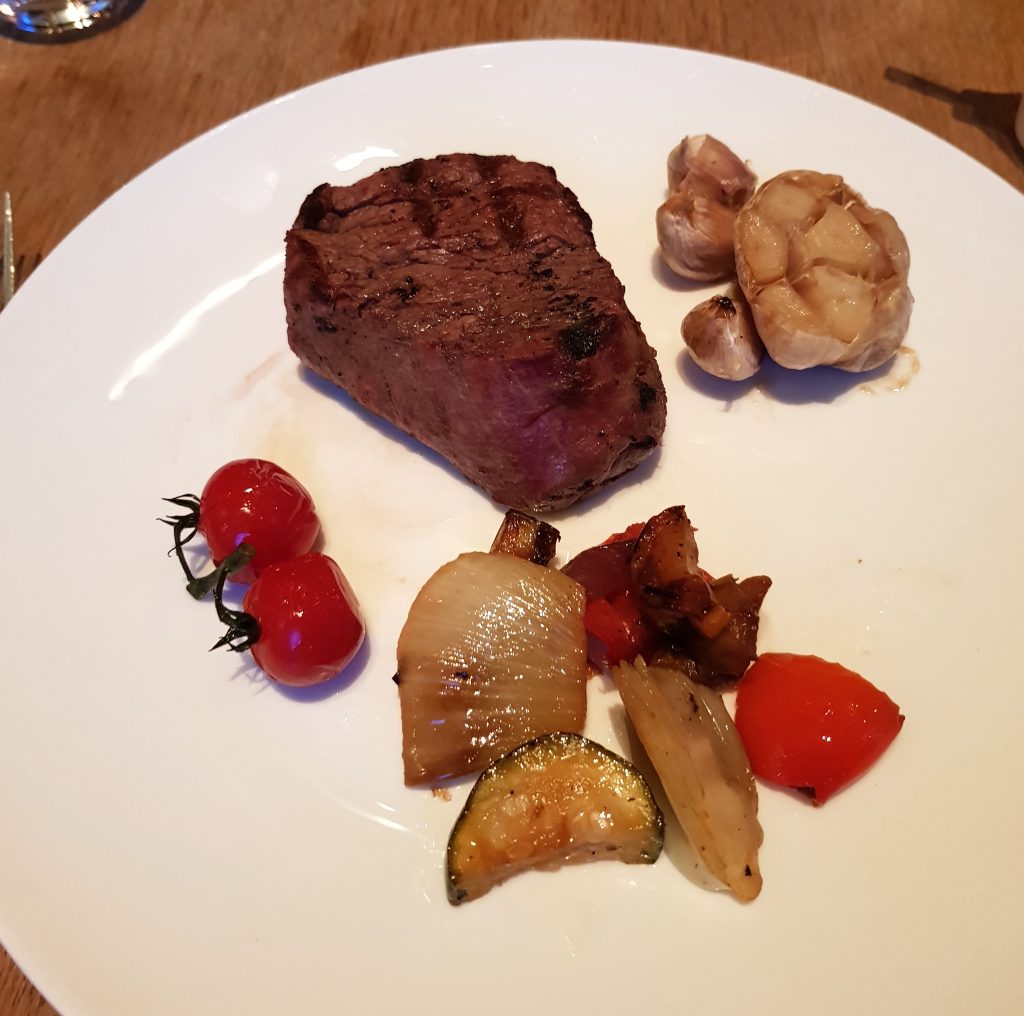 Fifth – the famous ´Dstrict Cheesecake`
 the grand finale is the ´Dstrikt Cheesecake`….the famous original cheesecake baked after the secret recipe of the Ritz Carlton Patisserie – melting on your tongue …… for me – best in town!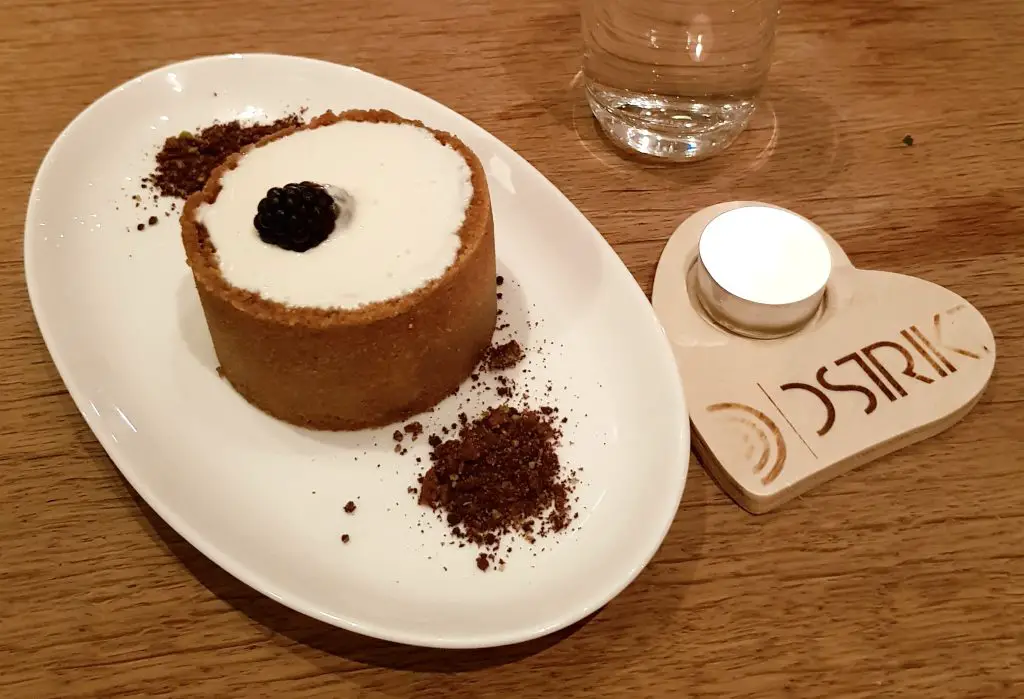 Sixth – The D-Bar at The Ritz-Carlton Vienna



If you are finished you might get a little digestive or Cocktail.
Seventh – the Special Offers of The Ritz-Carlton, Vienna
Link to the Website: http://www.ritzcarlton.com/en/hotels/europe/vienna/dining/dstrikt/special-offers
Discover Dstrikt's seasonal offers and creative specials……
AUSTRIAN NATIONAL HOLIDAY – 26th of October 
Celebrate Austria's national holiday – on this important day you can try two very special Austrian dishes on the menu! On the 26th of October, you can enjoy the finest Austrian kitchen and taste the ´Urschnitzel`, a special Viennese escalope on the bone, and the ´Salzburger Nockerl`, a typical Austrian sweet dumpling dish made from eggs and flour and baked in the oven and – I promise – melting in the mouth……!
THANKSGIVING DINNER
Visit the DSTRIKT steakhouse with your family, friends, or colleagues to say thank you! On this  American national holiday, DSTRIKT invites you to enjoy a modern interpreted Thanksgiving Dinner evening in Vienna – on the 23rd of November 2017 you can enjoy an exclusive three-course menu with Caesar salad, stuffed turkey, and the famous DSTRIKT Cheesecake in a limited pumpkin edition.
BBQ TO GO
Over 50 kilometers of beach, summer pools, parks, and BBQ places ensure a summer feeling in Vienna. As summertime is barbeque time an especially BBQ to go package for you with a wide selection of culinary delicacies for the perfect barbeque experience was created
The package includes
2x Rib Eye steak, 2x Flank steak, and sausages from local producers
Burrata and Tomato salad
Homemade BBQ sauce, homemade ketchup, and herb butter
Corn, vegetable sticks, the famous Dstrikt bread, and sea salt

DSTRIKT STEAKBRUNCH
Enjoy a buffet in the kitchen and choose your steak, free-flow champagne, a unique waffle station, a Bloody Mary cocktail bar, and other delicacies like oysters and freshly squeezed fruit juices ….

BELLINI SPECIAL
Are you looking for a refreshing aperitif to go with your steak? Try the newest Bellini creations in the flavor of pear, apricot, or raspberry, and indulge yourself in the sparkling taste of summer….
Blog: How to Order and Eat the perfect Steak (Beef Cut Guide)
How to Order and Eat the Perfect Steak the Right Way (Beef Cut Guide)
In wonderful cooperation with The Ritz-Carlton, Vienna
Save
Save
Save
Save
Save
Save
Save