Last Updated on February 26, 2018 by gregor
At an Olive Oil tasting event in Vienna I had the chance to interview international Olive Oil expert Mrs Sonja Murauer.
Q: What makes a very good olive oil?
Normally, all "extra virgin olive oils" should be of high quality. But some olive oils are still scratchy, bitter and not very harmonious in taste.
Q: How do you recognize a good olive oil?
 Its fruitiness: This is reflected in the smell. If the olive oil smells of freshly harvested olive leaves and mown grass, it is a good quality.
Its spiciness: This is expressed in a peppery note on the back palate and in a slight "burning" when you swallow the olive oil.
The slight note of bitterness: This occurs at the back of the palate and tongue, if you try the olive oil pure.
Q: How can I as a consumer recognize the quality of the oils?
When buying olive oil pay attention to the label "extra virgin olive oil" "cold-extracted or" cold-pressed ". These oils may be used at max. 27 degrees are pressed and thus still contain their valuable ingredients.
Pay attention to the origin declaration. The description, "bottled in" does not mean that it was also harvested and produced there. Often Italian-sounding names are used, and it is only a blend of various olive oils from the Mediterranean region.
Invest a few euros more in a good olive oil and see it as a health care.
Q: What does "extra virgin" mean?
Stands for extra virgin. For an oil to use the term extra virgin the following must apply (according to Regulation (EU) 29/2012): If the word "extra" is not included, it can be assumed that the oil has qualitative defects.
(Content of free FS <0.8% calculated as oleic acid), olive oil of first quality-obtained directly from olives exclusively by mechanical means.
Q: How does a good extra virgin oil taste?
According to Regulation (EU) 2015/1833 Mostly a combination of the positive attributes fruity, bitter and spicy .. A good extra virgin olive oil determines the consumer by his own personal taste preference.
Q: Is there an influence of variety, harvest, pressing and storage?
Each variety has its own individual design, depending on the climate, soil, etc. Medium ripe olives are best suited for the production of olive oil. Crucial is the pressing process directly after the harvest to avoid oxidation and fermentation. Cold pressing of the olive oil: valuable aromas and ingredients are retained and then optimal storage (olive oil very light and oxygen sensitive dark bottles)
(Bongartz, A, Evaluation Criteria of Extra Virgin Olive Oil DLG Test Food, 2007)
https://www.zhaw.ch/storage/lsfm/ueber-uns/oliveoil/publikationen/bongartz-beurteilungskriterien.pdf
Q: How do you taste olive oil and how do you taste the quality differences from mild, balanced to clearly spicy and bitter?
Olive oil tasting is an art and can be compared to a wine tasting because of its complexity.
It takes a lot of experience and continuous training to recognize all the taste details and nuances of the different olive oils. The tasting process usually takes place according to the specifications of the International Olive Oil Association (IOOC).
Put 2-3 tablespoons of olive oil in a small cup or in a wine glass….
First smell …
Cover the olive oil in the cup or glass with one hand and cover and swing with the other, warming it slightly. This allows the aroma to develop better. Lift the hand off the glass and smell the oil. The first impression is crucial. The aroma should be pleasant and e.g. reminiscent of freshly mown grass, fresh olives or hay.
The shades vary from green to golden yellow, but this is not a quality feature. Unfiltered or stored below 10 degrees may cause cloudiness. Decisive for the quality rating are only the smell and the taste.

The "potato test" with olive oil reveals more about the quality!
Are you still unsure if the olive oil is a high quality?
Cook potatoes (unpeeled), remove them from the pot, open the pan and add extra virgin olive oil over the jacket potatoes.
Smell it first, as a good extra virgin olive oil will be pleasantly smelling of aromas like freshly mown grass or olives.
A deficient olive oil creates a strong unpleasant odor.
How to check … the good qualities like "bitter, hot, fruity" and recognize flawed olive oil?
Q: Why do some olive oils taste bitter?
Depending on the variety of olives, mostly of very young yet unripe olives, the bitter taste may be stronger.
Q: What are the health benefits of olive oil and what are polyphenols?
Secondary plant compounds, antioxidant, help the body regulate blood lipid levels, but only from a certain amount. Polyphenols taste slightly bitter and spicy and protect the oil from spoiling.
Olivenöl: Die Polyphenole sind gesund für Herz und Kreislauf
Q: What is the best way to store olive oil?
Keep away from heat and keep dry, do not expose to direct sunlight. At temperatures <8 °, the oil may become cloudy. The haze disappears again at room temperature.
Q: How long does olive oil last?
From bottling to the 0.5 L GAEA bottle in about 1.5 years
After opening the bottle, the olive oil should be stored dark and used up within 2-3 months.
Q: What is the best way to enjoy olive oil?
Tasty recipes can be found at http://gaea.gr/en/#/rezepte
Q: What distinguishes the Greek GAEA olive oil in particular?
100% natural olive oil from Greece
GAEA puts olive oils on the shelves CO2 neutral, is committed to the efficient use of drinking water and is committed to sustainable production
The olives are harvested by hand, harvested and cold pressed within a few hours at a maximum of 27 degrees
Fresh, aromatic and harmonious thanks to its low acidity
Mrs Murauer, m any Thanks for your valuable time. In cooperation with GAEA Olive Oil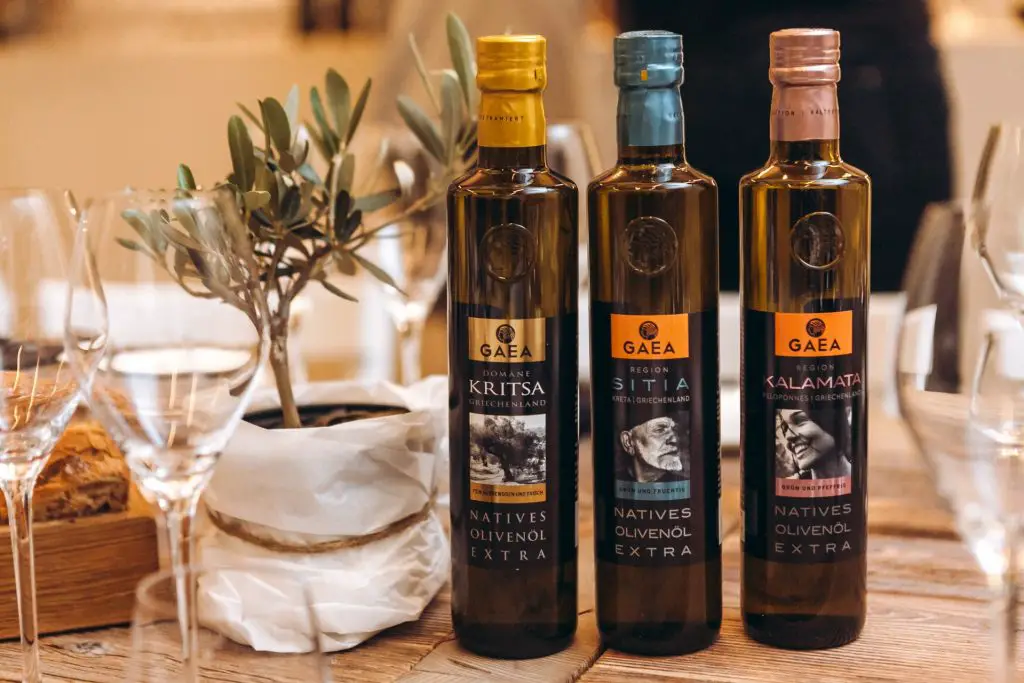 Photo credits: PhilippLiparski