Last Updated on June 2, 2023 by gregor
End of March we visited Maria Alm, at Hotel Niederreiter. So far we have never visited the Hochkönig region and were really looking forward to the Winter Wonderland at the end of March. Actually, I also planned to go skiing with my son Konstantin.
Easter in Maria Alm at the Hotel Niederreiter
In winter, the great surroundings invite you to go ski touring, snowshoeing, tobogganing, and cross-country skiing. Since the Natrunbahn is right next to the hotel, ski-in and ski-out are also possible.
Unfortunately, there wasn't enough snow at Easter, so we had to take the car to Hintermoos, 5 minutes away, to take the gondola up the mountain. Of course, we also took this opportunity and drove up the mountain to walk and enjoy the sun. There was also live music at the Steinbockalm and the Ski Gaudi was perfect.
Hotel Gasthof Niederreiter
Oberdorf 6
5761 Maria Alm
Website and Booking: www.niederreiter.com/de
The Hotel
The Hotel Niederreiter is a 3-star superior hotel with a great view of the town of Maria Alm and the Salzburg mountains. Those with a sweet tooth will be happy about the in-house pastry shop with a sun terrace and there is also very tasty food, starting with schnitzel with fries, alpine spaghetti, salmon fillet, goulash, or burgers.
By the way, there is a whole new wellness area, which I will show you in more detail later in the report.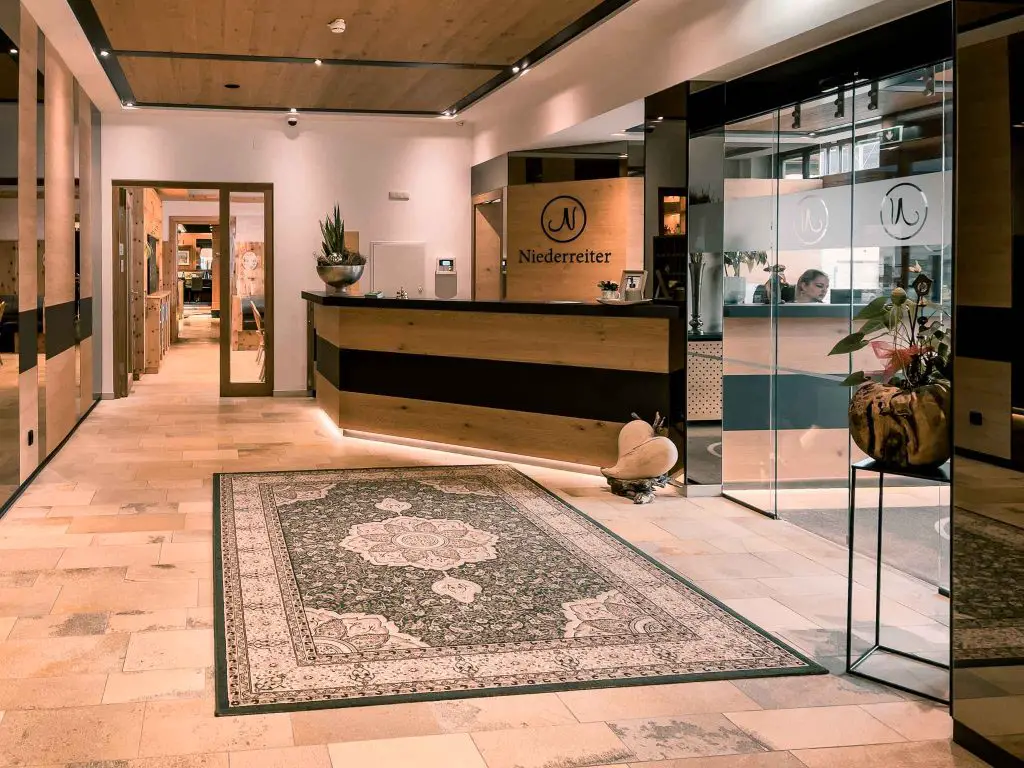 The Hotel rooms
The rooms have been newly renovated (new wooden floor, box-spring beds). On the balcony, you also have a great view of Maria Alm and the surrounding mountains.
The new wellness area
The Wellnesara was extensively renovated. Now there is a large adventure whirlpool, a Finnish sauna and bio sauna with fresh herbs, a steam bath, 2 relaxation rooms, and a tea bar with seating. In addition, the Hotel Niederreiter now also offers massages, which I can highly recommend.
The Food
We had booked half-board at the Hotel Niederreiter. In the morning there was a breakfast with a muesli corner, cheese and sausages, bread, pastries, spreads, sausages, and scrambled eggs. In the evening there was a 4-course menu with 2 menus to choose from.
If you get hungry during the day, you can order dishes of your choice à la carte in the hotel restaurant
Conclusion – Farewell with Fond Memories
As I bid farewell to Hotel Niederreiter, I carried with me cherished memories and a sense of gratitude for the extraordinary experiences I had. The heartfelt hospitality and the lasting impressions left by this enchanting destination have inspired me to encourage you to embark on your own magical journey to Maria Alm.
Hotel Gasthof NiederreiterOberdorf 65761 Maria AlmWebsite and Booking: www.niederreiter.com/de