Last Updated on September 28, 2022 by gregor
Extra wide comfortable seats, a better menu selection, power sockets, and much more! See what the New Austrian Airlines Premium Economy Class offers on a long-haul flight from Vienna, Austria to New York.
What does Austrian Airlines' Premium Economy Class include?
around 5-7 inches of extra legroom
wider cabin seats
more space to recline
A separate food menu
enhanced entertainment
Are Austrian Airlines premium economy Class seats worth it?
Yes, definitely! Benefits include wider seats and more legroom, prioritized check-in and boarding, plus premium meals, services, and an amenities kit. Austrian Airlines Premium economy offers more Comfort Services than economy class and is typically much cheaper than business or first class
Here is my review and personal experience of the Austrian Airlines Premium Economy Class Flight from Vienna to New York
Being invited to a Flight to New York and experiencing the new seats and countless amenities in this new travel class of Austrian Airlines is excitement itself – even more exciting was the possibility to discover the countless benefits you can enjoy when flying Premium Economy Class.
I share the details of my new travel experience with the Austrian Airlines Premium Economy Class here…….!
The Centerpiece – The comfortable seat
The centerpiece of the new Premium Economy Class is the extra comfortable seat – broader seat surface and wider than their economy counterparts – yes, it is extremely comfortable, especially for long-haul flights… I had the chance to feel it myself! Footrests allow you to make yourself comfortable…. you will find a central armrest in the middle and a huge fold-out table and a cocktail table …. the 12" screens do invite you to enjoy the entertainment program ….  And the backrest …. it can be put back a lot more than in economy and yes – falling asleep works easily!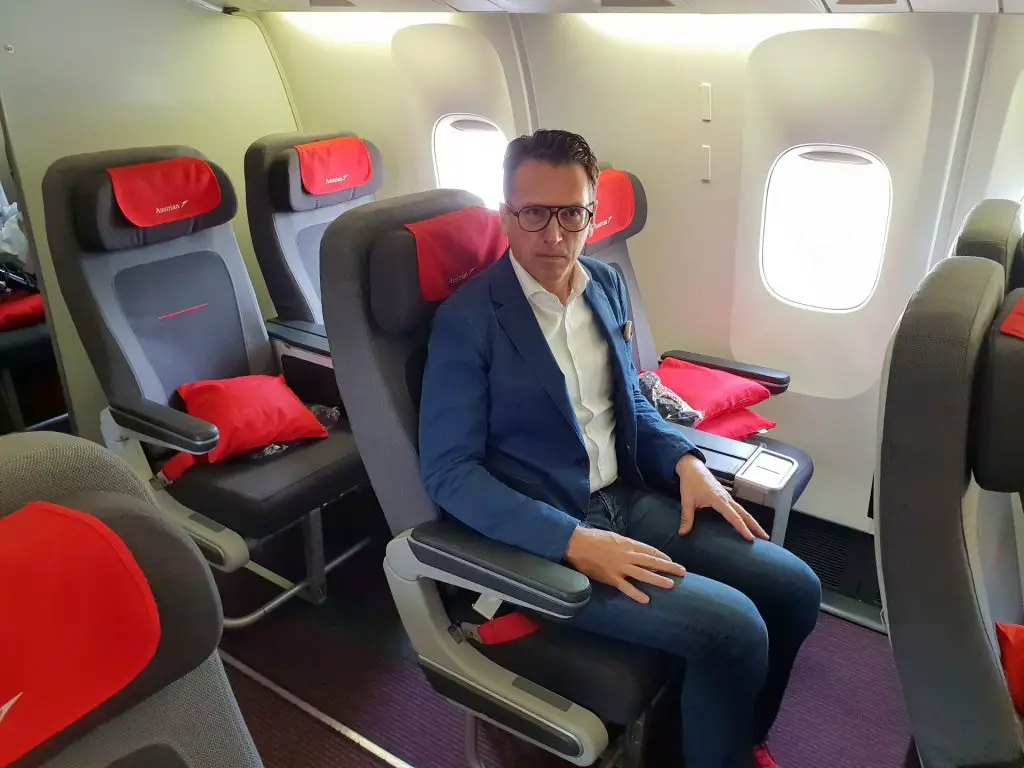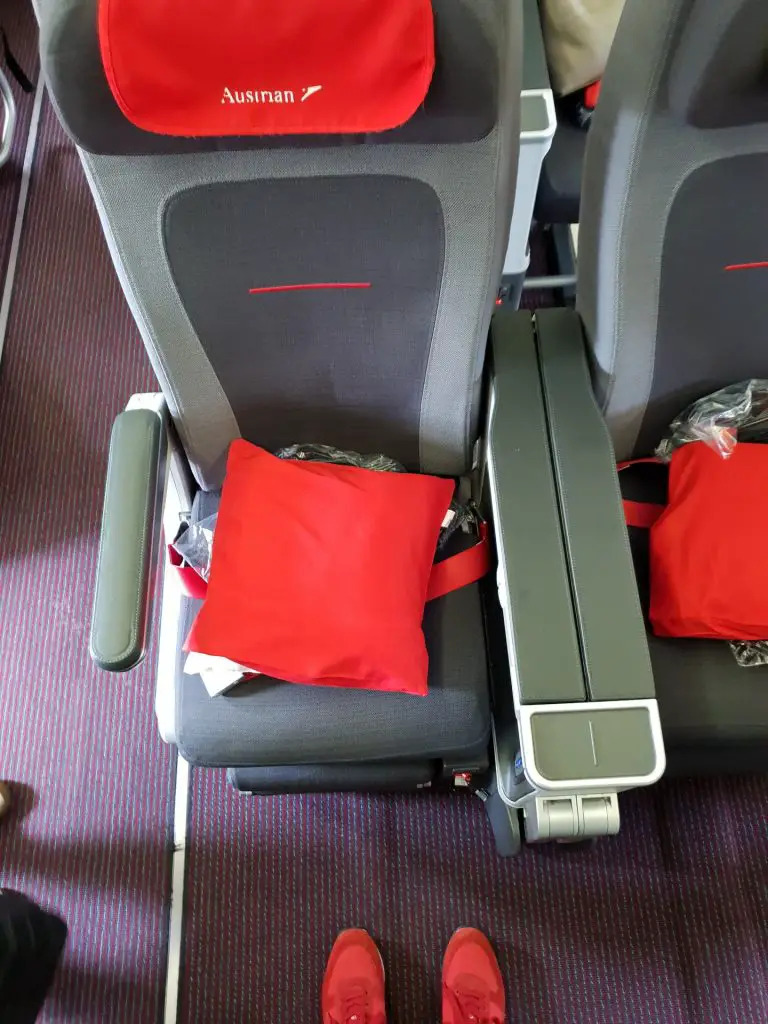 `Technical Comfort´
Nowadays we all have our `technical requirements´ – we do need to charge different gadgets and need various plug-ins for that – good news – everything one can desire can be found in Austrian Airlines new Premium Economy Class……. not only will does the seat offer extra working space for those who need it – an extra plugin and an extra USB port will make it easy for you to relax and charge …. whatever you need to!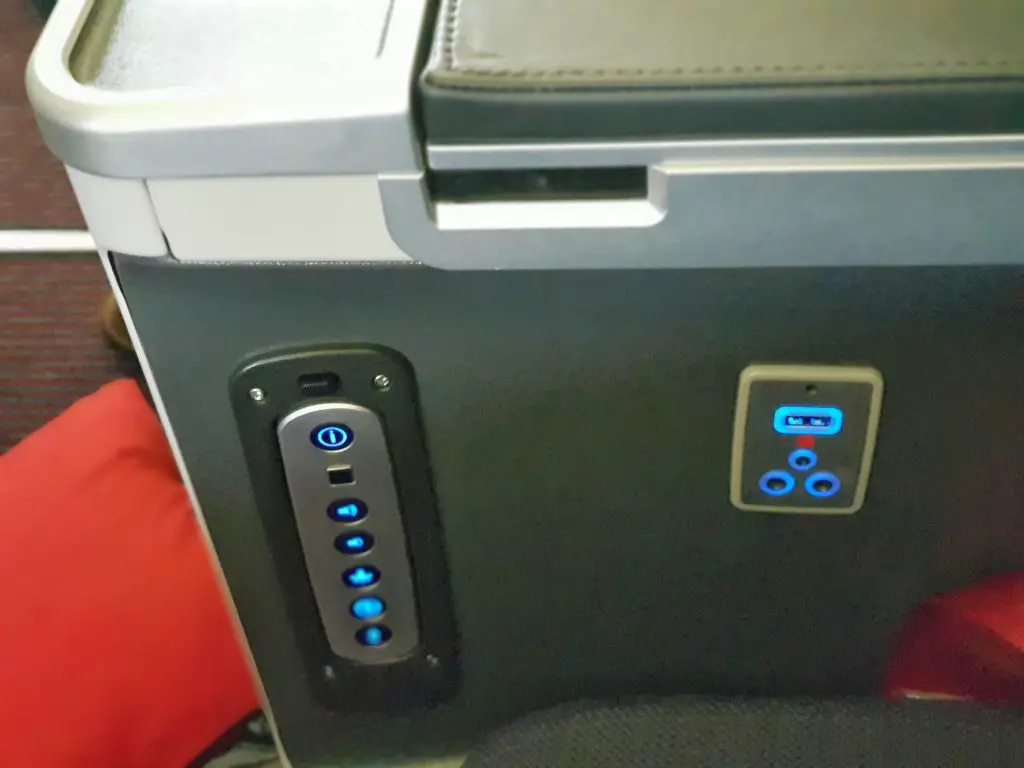 The Austrian Style Amenity Kit 
Making yourself comfortable yet staying stylish…… yes, it is possible with the lovely Austrian Style amenity kit that is offered to you as a Premium Economy passenger – starting with the mandatory tooth brushing kit to the – of course – red ear plugs, the red sleeping mask over to the cozy and super stylish red socks – just lean back and enjoy your trip!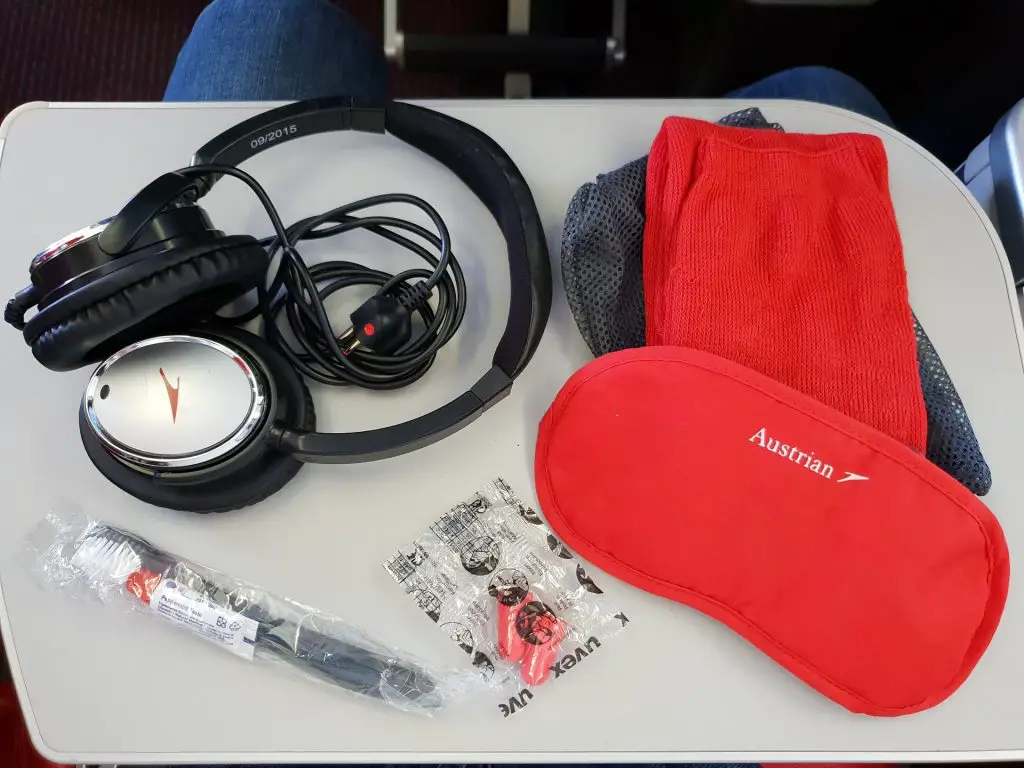 Culinary Delights & Cabin Services
A water bottle waiting for you on your seat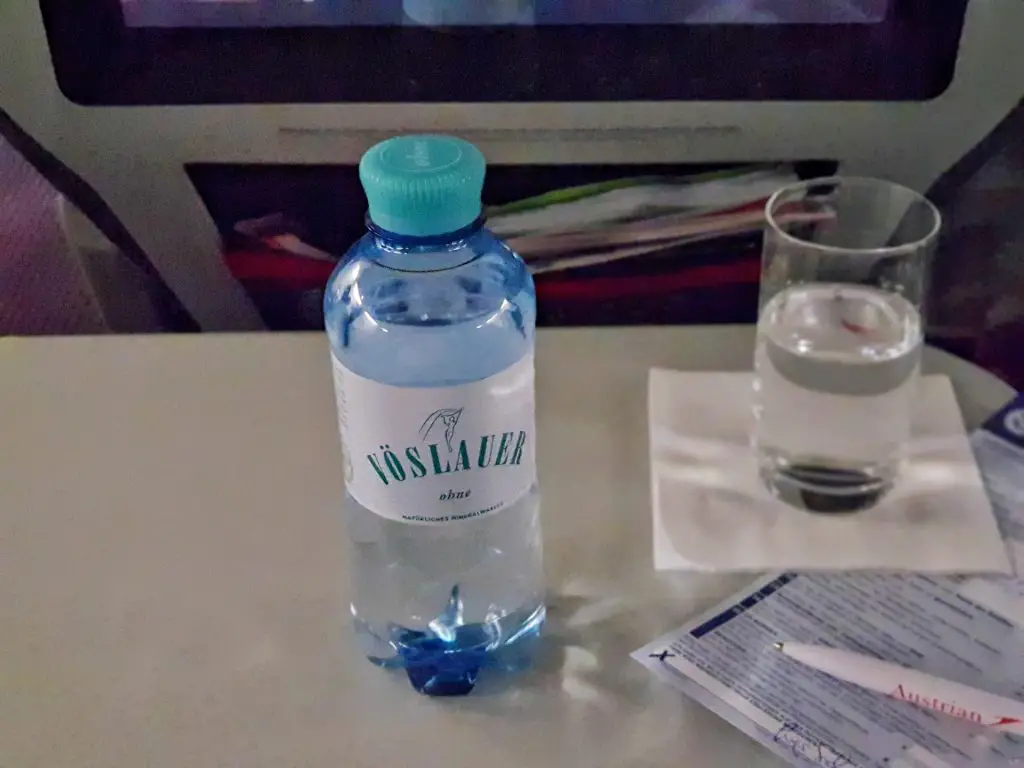 A Welcome Drink
A welcome drink waiting for you is served with the smile of one of the lovely crew members ….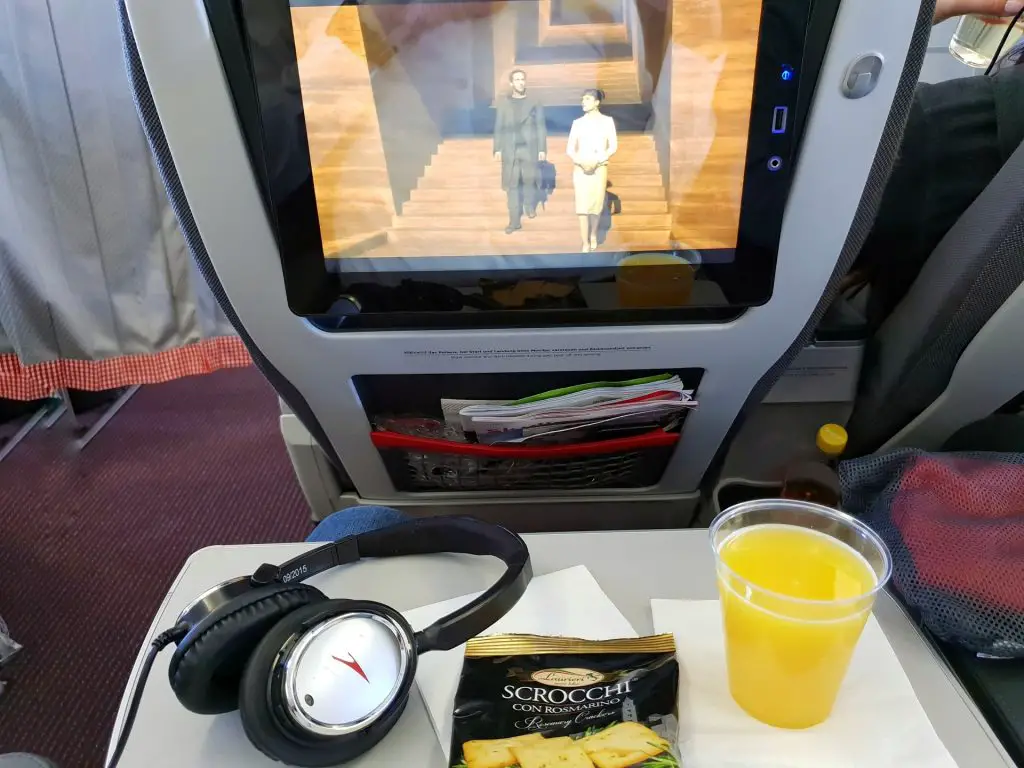 A four-course menu with a choice of three main dishes.
Of course, you will find that in the Premium Economy Class …. There is still a surprise waiting for you…. have a look at the menu and choose from three delicious courses … served on a large tray in china porcelain … enjoy luxury and the culinary delights!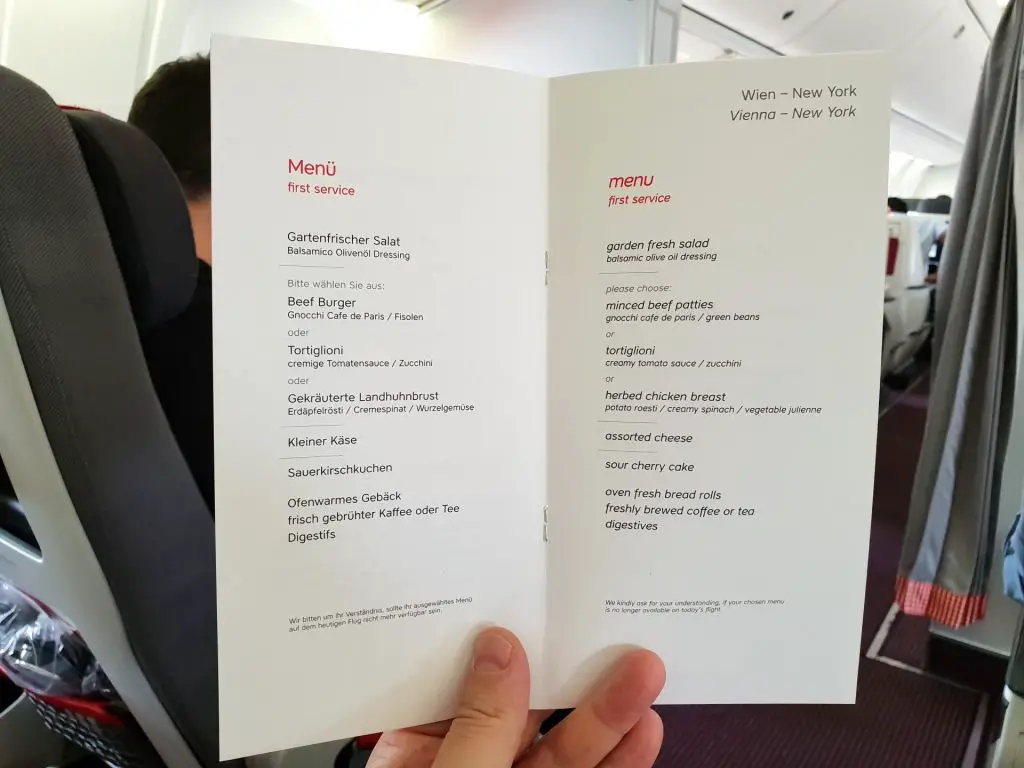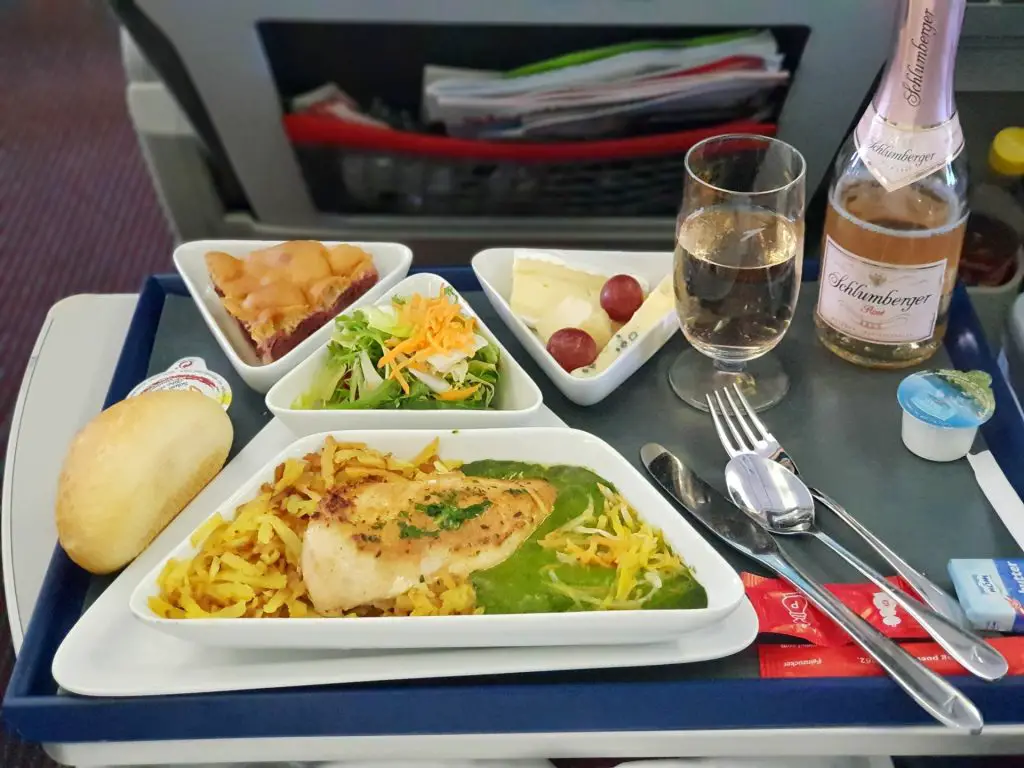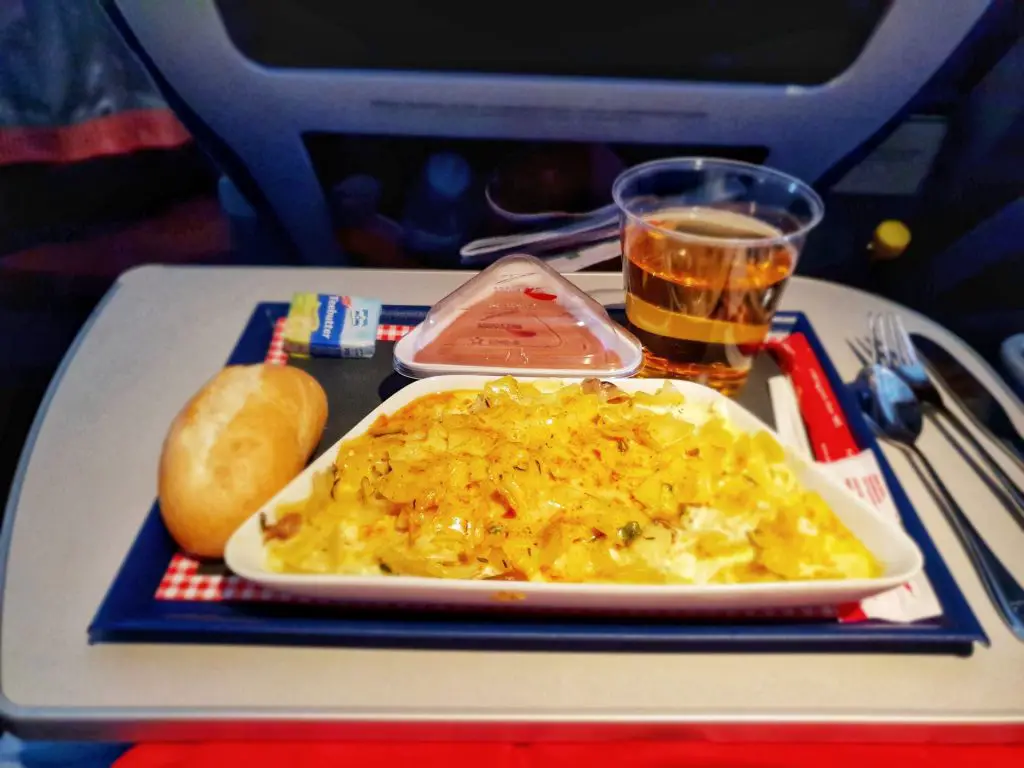 Noise Cancelling Headsets
Be even more relaxed – enjoy the noise-canceling headsets and feel like flying business class – you won´t have a better one there!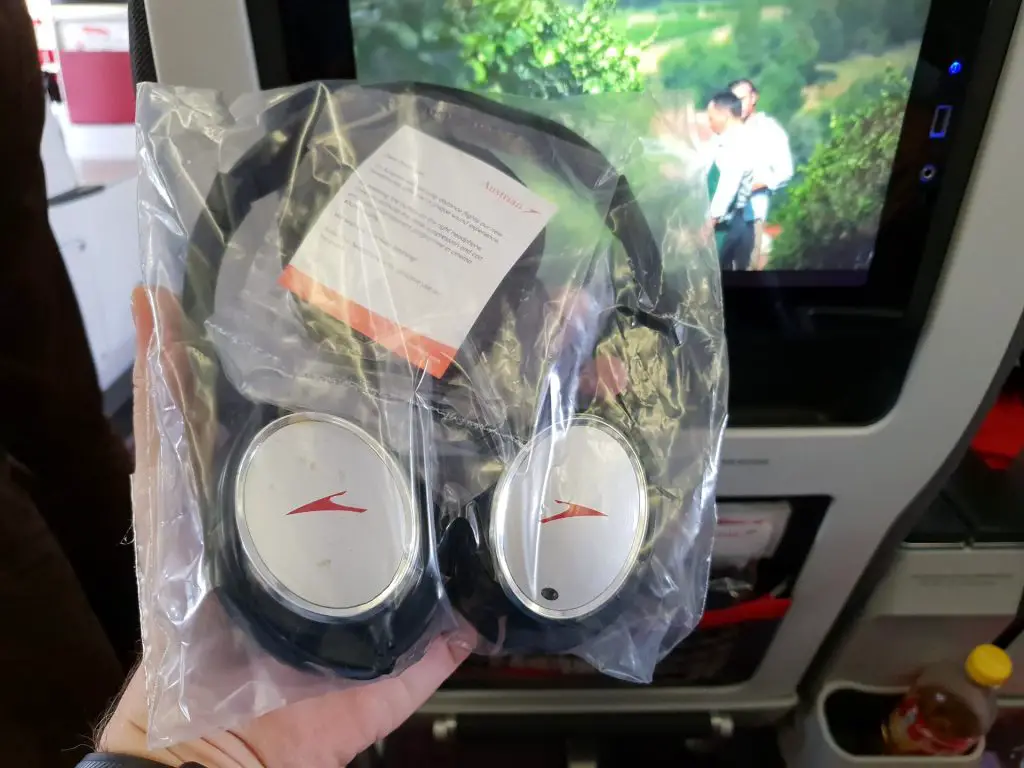 Exciting On-Board Entertainment Program
Our onboard entertainment consists of 350 hours of the best video and audio programming on a twelve-inch touch screen.
An extra piece of free Luggage
Planning a long trip may be challenging in terms of packing everything you need for a trip that lasts 2 weeks or even much longer …. one piece and 23 kg is somehow a challenge – well, not from now on – booking your seat in the Premium Economy Class allows you to take a second free 23 kg piece of luggage with you …. enjoy packing without pressure ….  and …. even more, important for some of us …. enjoy shopping on your trip …. no more need to worry about limitations on your flight – thanks to the new travel class of Austrian Airlines – the Premium Economy Class ……!
Learn more About the Austrian Airlines Premium Economy Class
What is the difference between Economy Class and Premium Economy Class?
The biggest difference between Austrian Airlines Economy Class and Austrian Airlines Premium Economy Class is the seat distance to the vehicle in front. This has consistently increased by 10 – 15 cm in all airlines and is around 95 cm in this "intermediate class".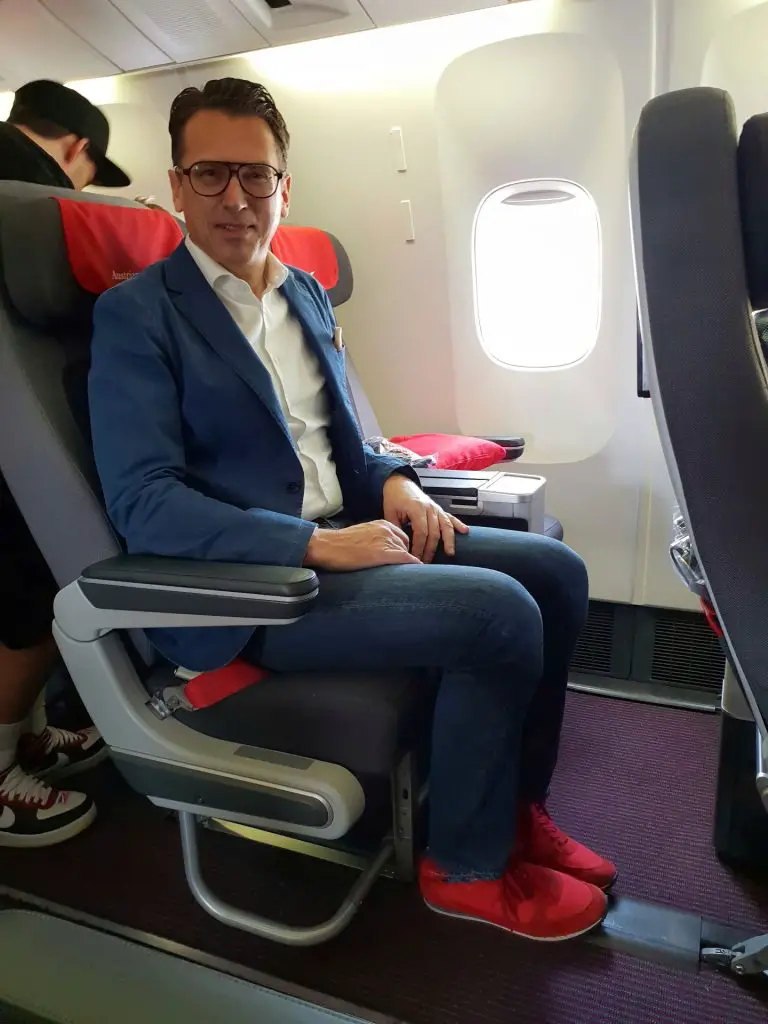 In wonderful cooperation with Austrian Airlines