Last Updated on March 16, 2023 by gregor
If you're looking for a travel destination that has it all, look no further than Vienna, the capital of Austria. Vienna is one of the most beautiful cities in Europe. It's a great city for shopping, dining, and sightseeing. The City of Vienna offers an incredible mix of culture, food, and history. Here are the top 10 reasons to visit Vienna.
Getting from the Airport to the City Center ( Welcome Pickups Private Driver)
1. Things to do in Vienna – Visit Vienna Bucket List
There are plenty of things to do in Vienna, Austria. The city center is full of historical landmarks, museums, and other attractions like the Christmas Markets in Vienna. Visitors can explore the Hofburg Palace, the Schönbrunn Palace, and the Belvedere Palace. Other popular destinations include the Vienna State Opera House, the Stephansdom Cathedral, and the Prater amusement park. There are also many great restaurants and cafes to enjoy in Vienna. Here are our Vienna Travel guides, Bucket Lists, and Vienna Itineraries
Highly Recommended Top Things To Do In Vienna View Prices and REVIEWS
2. Vienna combines nature and city living
Aside from the urban capital flair, Vienna offers countless parks and recreational areas where you can enjoy some peace and quiet. More than half of the metropolitan area is made up of green spaces. 280 imperial parks and gardens enrich the cityscape. In spring, 400 species of rose bloom in the Volksgarten alone. In the Burggarten you can wander around like Empress Sisi did.
The nearby recreation areas of Prater, Vienna Woods, and Lobau invite visitors to go on walks, day trips, hikes, and bicycle tours. Vienna has a total of 2,000 parks. Learn more about the Green Vienna here (Click) Here is an overview of the Day trips from Vienna
3. Vienna's Imperial Palaces and Architecture
Vienna is a city with a rich history dating back to the days of the Habsburg Austrian Empire. This imperial past is reflected in the old town city's architecture, which includes some of the most impressive buildings in Europe. Vienna's imperial architecture is a must-see for anyone interested in history or architecture. Here are just a few of the reasons why:
1. The Hofburg Palace is one of the largest and most beautiful palaces in Europe. It was the primary residence of the Austrian emperors for centuries, and it now houses several museums and other attractions.
2. The Vienna Opera House is one of the most famous opera houses in the world. It was built during the reign of Emperor Franz Josef, and it remains one of Austria's premier cultural institutions.
3. The baroque Belvedere Palace is another magnificent palace that was built for Prinz Eugen (Famous Austrian Conqueror)
4. The beautiful Schönbrunn Palace and Gardens
5. The Vienna St. Stephen's Cathedral is a Gothic cathedral located in the center of Vienna, Austria. It is one of the most important and beloved buildings in the city and serves as the seat of the Archbishop of Vienna. The cathedral was built in the 12th century and has been extensively restored in recent years. It is a popular tourist destination and is one of the most visited buildings in Austria.
Top Tip: The Vienna Pass
4. Viennese Classical Music in the spotlight
Vienna is the world capital of music because nowhere else was home to more famous composers than here. Classical music is the heart of our music history and the work of great composers such as Wolfgang Amadeus Mozart, Ludwig van Beethoven, and Franz Schubert is still showcased on many stages throughout the city. Today the Viennese Philharmonic, the ensemble of the Viennese State Opera, and the Vienna Symphonic Orchestra contribute to this very important part of our culture.
5. Museums & Galleries in Vienna
Vienna has over 100 museums – major collections of global caliber and bizarre little ones. Visit them, look at them, marvel at them. An important part of our culture is the historical inner city, with some of its imperial buildings that can still be visited today. Among these are many museums with collections of world-famous artists, such as the "Kunsthistorisches Museum", the Natural History Museum, and the Albertina Museum. Read more about the Top 12 Museums to visit in Vienna
6. Traditional Viennese Coffee
Vienna is known for its coffee house culture, and there are many iconic coffee houses throughout the city. These traditional Viennese coffee houses have been a part of Viennese life for centuries, and they offer a unique atmosphere that is perfect for enjoying a cup of coffee and some conversation. Many of the city's most famous writers, artists, and musicians have frequented these coffee houses, and they continue to be popular places to this day. If you're looking for a truly Viennese experience, be sure to visit one of these iconic Viennese coffee houses.
7. Vienna Christmas Markets – Vienna in Winter
The Vienna Christmas Markets are one of the most popular tourist attractions in Austria. Every year, millions of people visit the markets to shop for gifts, eat traditional food, and drink mulled wine. The markets are open from late November to Christmas Eve, and they are located throughout the city. If you're planning a trip to Vienna during the holiday season, be sure to check out the Christmas markets!
8. Viennese Imperial flair
Explore Vienna's most beautiful squares while sitting on a horse-drawn carriage, which is called "Fiaker" in Vienna. After that, enjoy a walk through the avenues of the parks at Schönbrunn Palace, where Emperor Franz and his Empress Sisi once resided. The Palace itself impresses with splendid staterooms and offers an insight into the former imperial living rooms. Behind the castle on a small hill, lies the "Gloriette", which can be reached by a short walk. The little effort uphill will be rewarded as soon as you reach the top and have a stunning view over the city.
9. Viennese cuisine – From Wiener Schnitzel to Sachertorte
From the typical "Beisl" with hearty cuisine to the luxurious gourmet restaurants, Vienna offers a mixture of local and international tastes. As the only city in the world, we are the namesake of our own eating style, "Viennese cuisine".
The city's Heuriger (wine taverns) offers a wide variety of local wines and are a great place to enjoy a traditional food
The Wiener Schnitzel is perhaps the most famous dish of Vienna, and is made with veal that is pounded thin, breaded, and fried. The Sacher Torte is another popular dessert and is a chocolate cake filled with apricot jam.
Even if you are vegan you can choose from a variety of restaurants. Here is the Ultimate List of the Best Vegan restaurants in Vienna. (CLICK) If you need a healthy dinner or just a fast snack here you find the right restaurant in Vienna
10. Vienna is the city with the highest quality of living in the world
For the eight-time in a row, Vienna has been awarded as the city with the highest quality of living. Vienna provides a huge educational offer, has a well-developed public transport system, which its inhabitants can use for € 1 per day and we feel more than safe here in the heart of Europe. Viennese love the city and are happy about every guest who visits Vienna
Conclusion
Due to its central location in Europe, Vienna is a very popular destination for visitors from all over the world. With more than 1.9 million inhabitants, Vienna is the most populous city in Austria and the second-largest city in the German-speaking area behind Berlin. According to the "Innovation Cities Global Index", Vienna is after London and San Francisco as one of the most innovative cities in the world
.
Frequently Asked Questions
How to get from the Vienna airport to the City Center?
There are several transportation options that run from Vienna International Airport to the city center. The best ways to travel from and to the airport are: From the Vienna airport to the city center it takes about 35 minutes when there is no traffic. The rush hours are usually during working days in the morning (7 to 10 AM) and in the late afternoon (4 to 7 PM). During the rush hour please add 20 – 30 minutes to your Airport to city center transfer. The official address is Vienna, Stephansplatz.
If you are short on a budget, pick the airport train or bus service from Vienna airport to the city center.
Private Transfer: It is the easiest and most comfortable way to get to the city center but it is also the most expensive option. If you are not on a budget then you can book your transfer online before your departure and a driver will be waiting for you at arrival. It takes 20 minutes depending on traffic and costs €45. Book your transfers in Vienna.
How to get around in Vienna?
Vienna is a city where you can get around easily by foot, or using public transit, which includes buses, trains, trams, and subways. Most of the attractions in our Vienna itineraries are located in the city center. If you need to take the metro, just go to the station and buy your ticket at the kiosk. You can pay with either cash or a credit card for a single ticket.
If you plan on using public transportation a lot during your stay, the Vienna City Card might be a good option for you. It allows unlimited use of all public transportation in Vienna. You can choose from 24, 48, or 72-hour cards depending on how long you plan to stay.
The Vienna Pass
The Vienna PASS is an all-inclusive sightseeing card that gives you the opportunity to experience the many faces of Vienna. Free admission to many attractions and unlimited hop-on hop-off bus rides.
is Vienna a good place to visit?
Absolutely! Vienna is a wonderful place to visit. With its stunning architecture, rich history and vibrant cultural scene there's something for everyone in this beautiful city.
Vienna is known for its elegant buildings many of which were built during the city's imperial heyday. The Hofburg Palace the Belvedere Palace and the Schönbrunn Palace are just a few examples of the breathtaking architecture you can expect to see.
But Vienna isn't just a pretty face – it's also a cultural hub with a thriving music and art scene. From classical music concerts to modern art exhibitions, there's always something exciting happening in Vienna.
And let's not forget the food! Vienna is famous for its delicious pastries, savory sausages and rich coffee culture. Whether you're in the mood for a schnitzel or a slice of Sachertorte, Vienna's culinary offerings are sure to delight your taste buds.
So if you're looking for a destination that combines history, culture, and great food look no further than Vienna. It's a city that's sure to leave a lasting impression on you.
Should I visit Vienna?
Absolutely! Vienna is a beautiful city with a rich history, stunning architecture, and a vibrant cultural scene. It's definitely worth a visit.
What can you do in Vienna in 3 days?
You can see many of the city's top attractions such as Schönbrunn Palace, St. Stephen's Cathedral, and the Hofburg Palace. You can also visit museums and art galleries, and enjoy the local cuisine and coffee culture
Is Vienna worth visiting?
Yes, Vienna is definitely worth visiting. With its rich history, stunning architecture, and the vibrant cultural scene there's something for everyone in this beautiful city.
Is 2 days enough for Vienna?
While 2 days is better than nothing, it may not be enough time to fully explore everything Vienna has to offer. Ideally, 3-4 days would be better to see more of the city's top attractions.
How many days in Vienna is enough?
It depends on your interests but ideally, 3-4 days would be enough time to see many of Vienna's top attractions, enjoy the local cuisine, and soak up the city's vibrant culture.
If you are wondering how many days in Vienna you need, three days is adequate to see the whole city.  Three days in Vienna will allow you to get to the top attractions at a reasonable pace and maybe give you a chance to soak in some of the many cultural activities like visiting Vienna's Museums.
Related articles
Here are Practical Tips for Visiting Vienna
Here is the Vienna Ultimate Top 50 Bucket List
Here are the Vienna Old Streets in Historic Center
Here is the Spittelberg Village in Vienna
PIN IT on PINTEREST!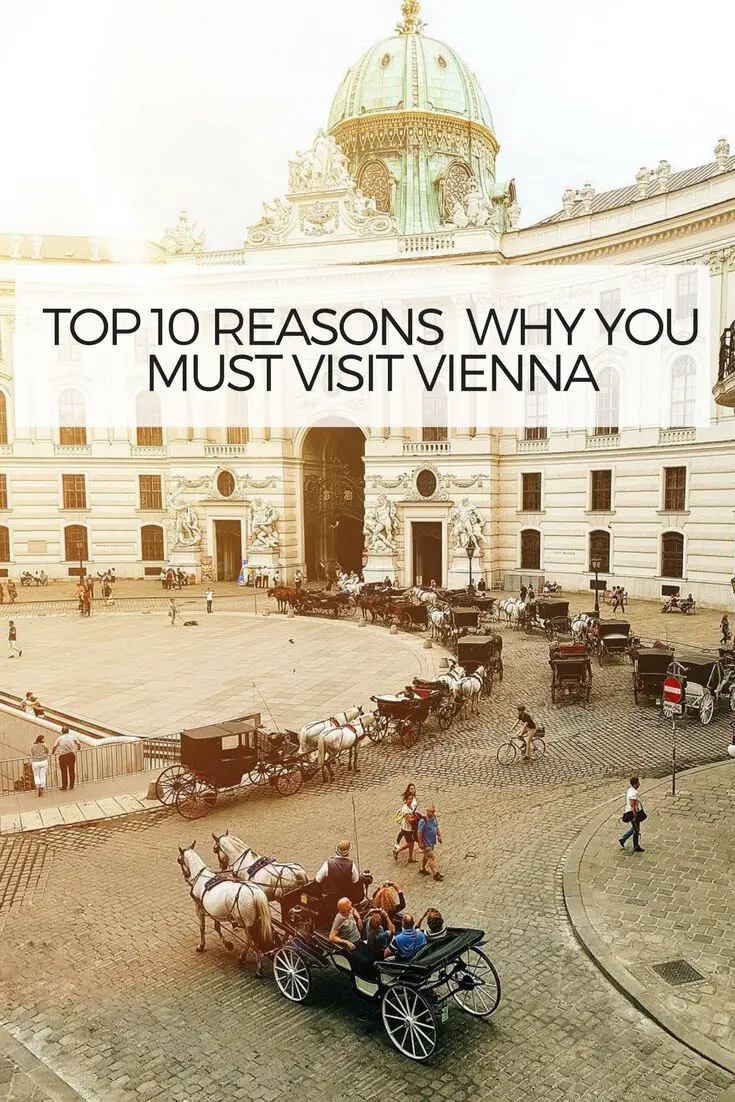 These 10 reasons will convince you to come to Vienna!
It is highly advised to book your Guided Tours in Advance. Please have a look at these Guided Tour activities which I recommend doing when you are visiting Vienna.
Save
Save