Last Updated on March 17, 2019 by gregor
Chivas Bartender Chapter
With the "Chivas Bartenders' Chapter" project, Chivas Regal redefines the Cooperation with Bartenders. For the first time, four Viennese bartenders are selected, which for a whole year enjoyed the traditional Chivas Regal spirits (including a trip to Scotland) and share these insights with others.
Please find the link to the Chivas Bartender Chapters Kickoff Event:
https://www.theviennablog.com/2018/11/16/enjoy-the-best-chivas-regal-whisky-cocktails-in-austria/
During the 2nd Chivas Bartenders Chapter Bar tour in Vienna, we also had the chance to interview Ken Lindsay, International Brand Ambassador of Chivas Regal:
https://www.theviennablog.com/2018/12/29/interview-with-ken-lindsay-chivas-regal-international-brand-ambassador/
The Vienna Blog summarizes all the work of the past months and shows the selected bartenders and bars as well as the recipes of the exclusive Chivas Regal cocktails.
We wish you a lot of fun while reading and mixing.
The Sky Bar, Vienna
The Giant Ferris Wheel, St. Stephen's Cathedral, Belvedere, Town Hall and Charles Church – thanks to the unique glass construction of the Sky Bar and Sky Restaurant, you have a fantastic view over Vienna and the city's most popular sights from early in the morning until late at night.
The bar and restaurant are located on the top floor of the STEFFL Department Store in the heart of downtown Vienna. The modern interior and the glass front offer a breathtaking view over the entire city to the idyllic vineyards. Enjoy with a coffee or a cocktail on the roof terrace the view on the skyline of the city and the "Stephansdom" – which the Viennese lovingly call "Steffl".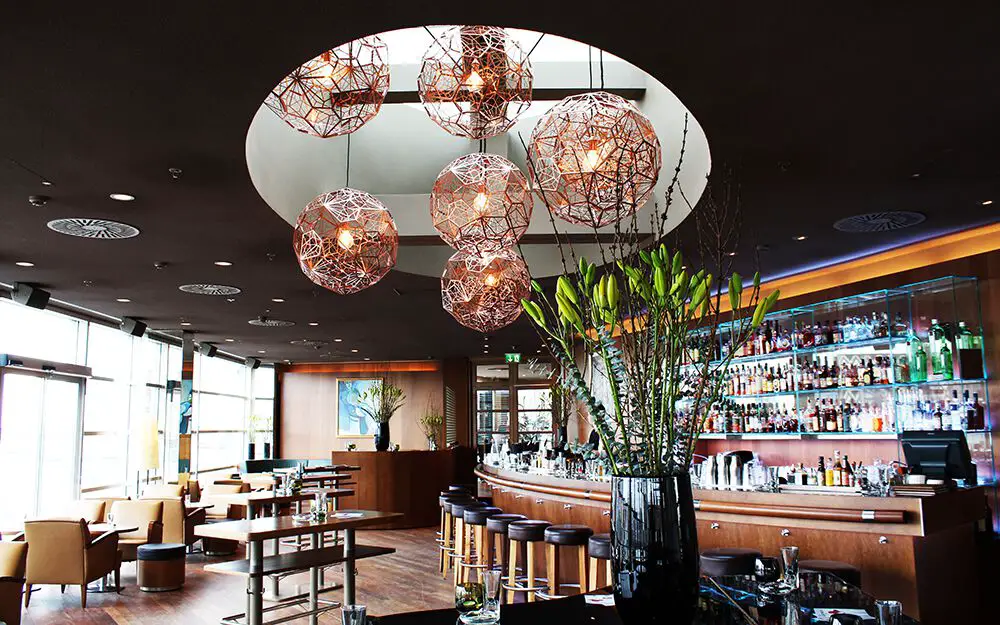 Photo Credit: Claudia Riha
Website:
http://www.steffl-vienna.at/de/skybar/
Chivas Cocktail:  First District

INGREDIENTS
– 5cl Chivas shelf 12yo
– 3cl Martini Robino
– 2cl Bauer Hazelnut Schnaps
– 1 BL Monin cane sugar syrup
– 1 BL Havana Honey Bitter
PREPARATION
Stir the ingredients in a mixing glass,
serve it in a coupe glass without decoration
Next year, more bartenders will be selected – year after year, the circle of Chivas experts will be extended.
In wonderful cooperation with Pernod Richard Austria
Chivas Regal – Her Majesty's whisky
The story of a Whisky begins in 1801 on the north coast of Scotland.  Chivas which is consumed all over the world and whose name is a symbolic character. Its success is based on the ambition and subtle senses of the brothers John and James Chivas. The Chivas Brothers dreamed of a soft whisky that was destined to be shared and enjoyed with friends. They combined various mature whiskies to make a Blend of unique taste.
Chivas Regal 12yo and 18yo are triple blended.  The Difference between Chivas Regal 12yo and Chivas Regal 18yo consists in the fact that for the 18-year-old whisky even more rare Malt and Grain Whiskies are used and the youngest component ages at least 18 years.
https://www.instagram.com/p/BtoMMSal4yD/
https://www.instagram.com/p/BtoMMSal4yD/
https://www.instagram.com/p/BeLaaVHhizC/